Addressing the overall well-being of the employees is no simple task now, but it is indeed an essential one. The worrying effects of a historic culture that has considered workplace performance more important than employee well-being are becoming increasingly apparent, and it is now clear that businesses need to develop robust strategies to ensure that employees are appropriately supported and empowered to cope with the ensuing pressures. There is no doubt that healthy employees are happier, perform better, and are less absent from work. 
A sample image representation of the health benefits preferences of a diverse workforce.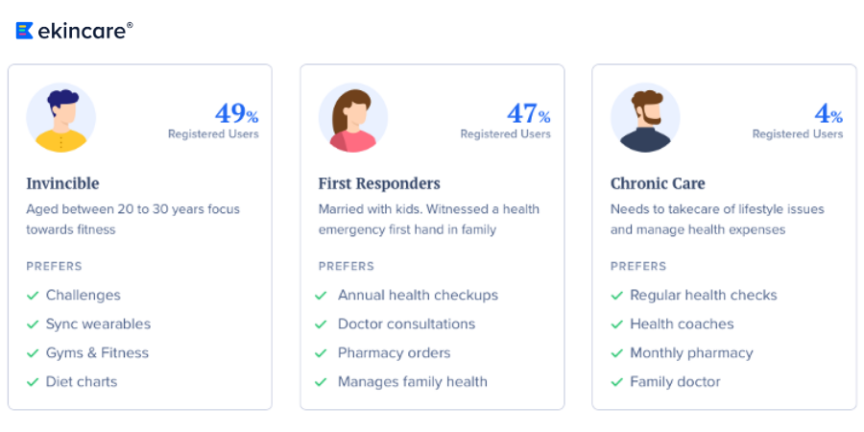 The World Health Organization (WHO) defines health as a state of complete physical, mental, and financial well-being and not merely the absence of disease or infirmity.
Acknowledging the key points that support a robust employee holistic well-being program is the first step towards success. Key components of a holistic corporate well-being plan include the following:
Physical wellbeing
Mental wellbeing
Financial wellbeing
Physical well-being
Studies say that non-communicable diseases (NCD), which include cardiovascular disease, cancer, and diabetes, are the leading cause of death and disability worldwide. By encouraging and facilitating physical activity for employees, employers can support every individual's health and well-being, a key factor for an organization's innovation, output, and success. When employees are physically fit and healthy, they are more likely to perform better at work. 
Employers can think of adding team-based challenges, gamification, fitness sessions that combine yoga, aerobics, relaxation techniques, etc. to employee wellness programs. Integrating fitness wearables to better track health information can be useful as well.
Here are a few essential components for an employee health benefits strategy.
Mental well-being
As, there's plenty of workplace stress due to COVID-19, from adapting to new working arrangements, having the kids home, employees getting sick, and much more, organizations should realize that employees are riding emotional rollercoasters and can support them by suggesting ways to reduce anxiety and alleviate larger concerns during times of crisis. The world indeed feels crazy right now, but HR professionals can definitely help their employees manage workplace stress during COVID-19. 
The best is to offer Employee Assistance Programs and encourage employees to take frequent brain breaks.
Listed below are a few essential components of an employee health benefits strategy.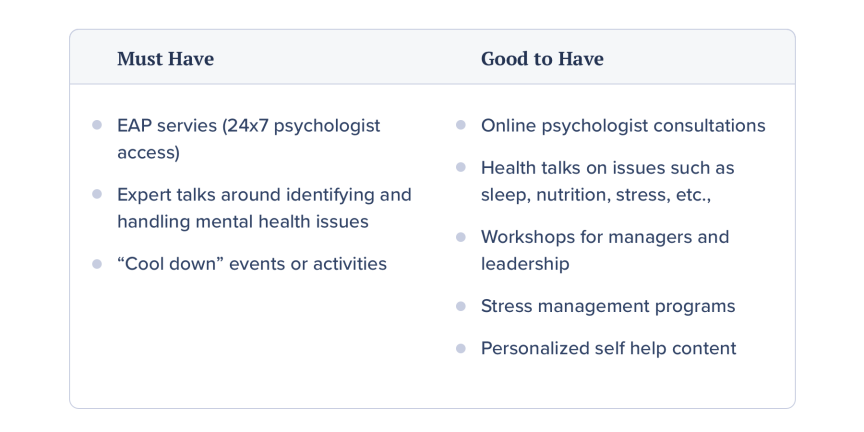 Read more about ekincare's Mental Well-being and Stress Management Program.
Financial well-being
Financial well-being may not seem an obvious health determinant, but it is a critical pillar of employee wellness. Just as employees are more productive and happy when they are physically well, they will be less stressed when they are financially well, too.
A recent article in Forbes reported that 80% of employers felt that financial stress was lowering their employees' performance levels. That financial stress is leading to depression, panic attacks, and sleepless nights, all of which cause costly distractions adding up to some $500 billion annually.
The best way for employers to combat the employee stress that comes with financial worries is to get them educated ("financially literate"), form a sound plan with goals, and manage expenses sensibly until those goals are reached.
Watch our webinar - Dealing with COVID-19 financial crisis
Conclusion
A holistic approach to employee well-being in order to foster healthy, happy, and productive employees and boost business performance and growth is of utmost importance now. There's a shift in employees' expectations of the role their workplace will play in their well-being and want their jobs to have an actively positive impact on their wider well-being. It's time now that organizations should deploy holistic workplace wellness programs that support all aspects of an employee's well-being - physical health, mental health, and financial health to outmanoeuvre their competition to reap the rewards of a healthy, productive workforce while gaining a competitive edge.