Employees are the crucial system underpinning the organization's ability to grow and thrive. So, employee benefits are indeed crucial in achieving the company's goals and objectives. These employee benefits packages may include overtime, medical insurance, vacation, profit sharing, and retirement benefits, to name just a few. While benefits are a critical piece of an employee compensation package, healthcare benefits are the crown jewel. 
Why are employee benefits important?
Offering benefits to your employees is important because it shows them that you are investing not only in their overall health but their future too. A solid employee benefits package can help attract and retain the best talent. 
Employee benefits can improve your company's bottom line by engaging employees to participate in well-being programs. Healthier employees mean reduced healthcare costs for the organization. Employees with fewer health risks experience fewer sick days, fewer trips to the doctor, and spend more time working in your organization and hence, bringing their best selves to work every day. 
ekincare's holistic health benefits for all employees
All health needs are solved by a single app, for the employees and their families!
Health Checks: Schedule health checks across 1500 partners
Gyms and Fitness:

Discover and book workout sessions at your convenience

Order Medicine:

Flat 15% discount, home delivery across 50+ cities

Consult a Doctor: Talk to a doctor anytime, anywhere
Health coach:

Personalized virtual coach to manage chronic conditions

Manage dependents:

Add up to 5 family members on the app

Personalized content:

Get regular tips and content based on your health data

Gamification:

Take various habit-forming health challenges

EAP:

Professional counselling services by qualified and experienced clinical psychologists, trained in Cognitive Behavior Therapy (CBT) and Positive Psychology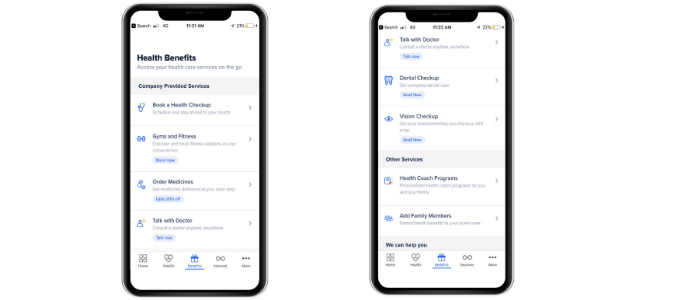 Healthcare benefits are not useful if they are not measured and assessed continuously. ekincare's patent-pending health assistant continuously monitors an individual's health data to dynamically recommend the next steps in their healthcare journey, helping companies save up to 25% on healthcare costs, drive higher health benefits utilization and lower their health premiums. 
Personal wellness score: It is an evaluation of the effect of different factors on your overall health. It is calculated by the health assistant with inputs from health risk assessment and medical records.
Personal recommendations: The health assistant continuously tracks for more than 180 different diseases, checks for past and predicted data to recommend timely interventions, challenges or articles.
Gone are the days of the one-size-fits-all approach to health insurance and employee benefits. Today's employees want to keep their doctors and access to hospitals and other wellness services within their communities. Plus, they often have different overall health and financial wellness requirements as compared to their colleagues in different life phases.
Business owners, large and small, who build in the option for employees to customize specific elements of their benefits packages empower their team members with the ability to better manage and control their health.
Whether it is a new business just getting up and running or a seasoned company that has been in operation for many years, the advantages outweigh the risks when it comes to offering employee benefits. These benefits are integral in attracting and retaining the right employees, leading to new business opportunities that benefit everyone.