With nearly two years spent facing the challenges posed by the COVID-19 pandemic, priorities over health and access to healthcare have changed dramatically. Corporate professionals today want everything at their fingertips - be it daily necessities, food, travel, or healthcare solutions. This convenience has gained even more importance amid the changing priorities due to the pandemic.
According to a report on the differences between Growth and Mature Market employees, 54% of growth market respondents said that they were much less likely to move elsewhere for work. Meanwhile, 27% of employees in mature markets reported that they would move only if their employer sponsors or promotes digital health solutions.
As a corporate employee or HR manager, this need for instant, location-independent medical assistance and a one-stop solution for your health needs can be met with the ekincare ecosystem.
ekincare's holistic health benefits
Telehealth - ekincare's team of talented doctors and medical health professionals are always ready to help with on-call consultations and quick response to queries. Your appointed family doctor is always available when you need them as well.
Telemedicine - ekincare's network of certified medicine providers ensures instant access and speedy delivery to over 22,000 pin codes across India. A big step towards location independence as far as medicinal needs are concerned.
ekincare offers walk-in coverage to customers at partner diagnostic centres in over 113 cities across the country, with many of them offering home collection services for ease of use in 90 cities. ekincare has also partnered with dental health facilities in over 96 Indian cities to ensure that users' oral health is not neglected.
Vaccination - Along with the need for COVID-19 vaccination, there is also a consistent need for vaccination against general diseases and mandatory vaccination of young children as well. ekincare's partner network in this domain helps provide vaccination services across 40+ cities in India.
Mental health - Dealing with the daily stresses of work life can be difficult for the best of us. ekincare's team of trained mental health professionals can help guide you in times of need. While stress and anxiety have to be managed over the long run, it's important to have a good support system and professional guidance where necessary. ekincare's team is dedicated to providing just that - private, safe and secure mental wellness help when required.
Fitness - Along with our medical services, users also have access to ekincare's network of over 7,500 gym partners across the country, specialising in overall and different modes of fitness such as cross-functional fitness, Zumba, yoga, dance, and much more. This ensures fitness of both body and mind.
Personalization - The ekincare ecosystem learns about your specific needs based on an introductory questionnaire and your medical history. This way, you always have access to health services that you truly need.
Additionally, ekincare's partners are all digitally enabled, enabling all the relevant information about the user to be directed back to ekincare as the primary repository for said data. This includes information about gym visits, health records, dental services availed, and also invoices of medicines ordered through partners. This data is kept secure with encryption, and only shared with the specific healthcare partner who needs it for a specific query. This virtually removes the burden of maintaining accurate medical records from the user's shoulders.
Gamification - Who says a healthy lifestyle has to be dull? With intercompany stepathons, personal health scores, along with tips for improving your short-term and long-term health, the ekincare app gamifies the process of getting healthier, so you can level up your health progress in real life and check it on the app, right in front of your eyes. 
Security - The security of your health data is of utmost importance to us. This is why no one except you and the medical professional in charge of your case has access to your medical records, which are protected by state-of-the-art encryption.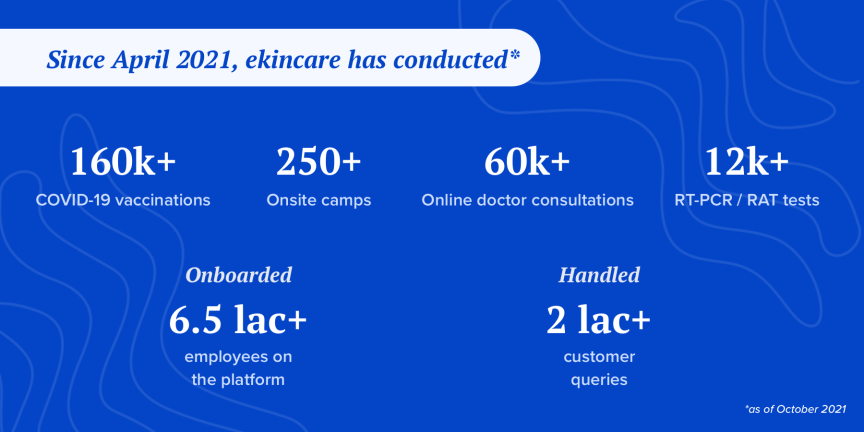 The future of health is digital
An overwhelming majority of employees and corporations are ready for digital health now, but the health solutions also need to be equipped to address their specific needs, across all industries. Taking this need as the goal for a healthy future, the ekincare ecosystem of services is constantly evolving to help provide a personalized, holistic, engaging and one-stop solution for all the health needs of the post-COVID professional world.