Everyone is busy at work. There are emails to respond to, meetings to attend, work to complete, relationships to maintain, and a personal life to balance - all usually under the pressure of multiple deadlines. While you crave a break, you're worried you can't afford to take one because of your excessive workload or how it might look to your superiors. Then you feel guilty when you do take one. You may think, "I don't have time to take a break, I'll fall behind!", but paradoxically, taking some time away from work can actually improve your quality of work.
Why is taking breaks at work important?
When we don't take sufficient breaks, it leads to burnout and higher stress levels. However, the benefits of taking breaks are many-fold:
Breaks increase productivity & job satisfaction and help restore focus & attention.
They improve mental health and well-being and help to improve physical health.
They can restore motivation and rejuvenate a tired mind.
They prevent fatigue and improve concentration.
They increase creativity and allow for fresh perspectives on complex problems.
Taking breaks helps promote healthy habits and self-care practices.
"Movement breaks" are helpful for emotional and physical health. 
"Rest" helps consolidate memories and improves learning.
Breaks help to prevent and reduce stress and also have a positive effect on mood.
Click here to learn how ekincare can help your employees stay mentally fit & happy with proper support.
Tips on how to set up taking breaks
We tend to neglect breaks when we need them the most, especially when things aren't going well. The art of taking breaks is not just about taking breaks when things are going badly and you are already at the breaking point. Instead, the key is to incorporate breaks into your daily life – it is like regular "tuning up" so you can work effectively throughout the day. 
Here are some tips to remind you to take a step back and "recharge your batteries":
Don't keep your breaks a secret. Let people around you know that you are taking a break and shouldn't be disturbed by work requests during that period.
Have a "break reminder" set on the alarm daily that prompts you to stop what you're doing and take a moment to pause. Take breaks as a rule and as part of your regular workflow.
Do something enjoyable during your break, whether it's going for a tea break, a stroll in the park nearby, listening to music, stretching your muscles or just sitting still. It should be relaxing or energising, not a chore to do.
Use post-it notes or drawings or memes to remind you not to take yourself so seriously that you pressurize yourself and forget to have a good time. While you are at work, you are still you, and it is okay just to relax and have a fun chat with work friends for a little while.
Don't think about work during your break, even if your mind is tempted. Let it go for a little while, and you may be surprised to find you have better ideas when you return to work.
How do you ensure those breaks are well-spent?
Engage your brain in a different activity from the one you were using at work, allowing yourself to both relax as well as energize, and prevent burnout
When you are too busy to take a break, it can even help simply to switch to a different task on your to-do list. This can give you a similar benefit to taking a break, it gives a different pace and allows your mind to re-align from monotony or stress.
Take "social breaks" from time to time such as chatting with your peers, which allow you to share your experiences and feel part of a group.  This feeling of relatedness and belongingness adds to the feeling of "connectedness" during breaks.
If possible, be active during your breaks or do something involving movement. This will improve your posture and physical health and give your mind a boost of energy. Even just 5-, 15- or 30-minute breaks at a time is good enough to have you feeling refreshed.
What can you do during your breaks?
Here is a list of some practical yet enjoyable things to do during your breaks at work:
Walk around or stretch
Leave the office space
Chat with colleagues
Get yourself a healthy snack or meal 
Have a brief nap, if allowed 
Meditate or journal 
Do something creative – like solving a puzzle or playing a quick game 
Have some juice, coffee or tea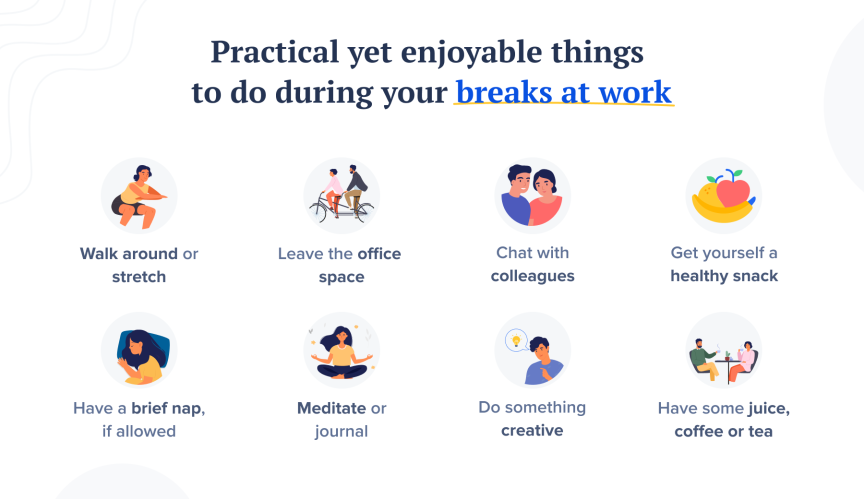 Plan how you will unwind when you get home that day
Give a loved one a quick call
Make a list of all that is going right today
Read a few pages or a chapter of a book
Look away from all screens for a while
Listen to relaxing or upbeat music
Watch clips or a short episode of a show that makes you laugh
Sit quietly for a few minutes doing nothing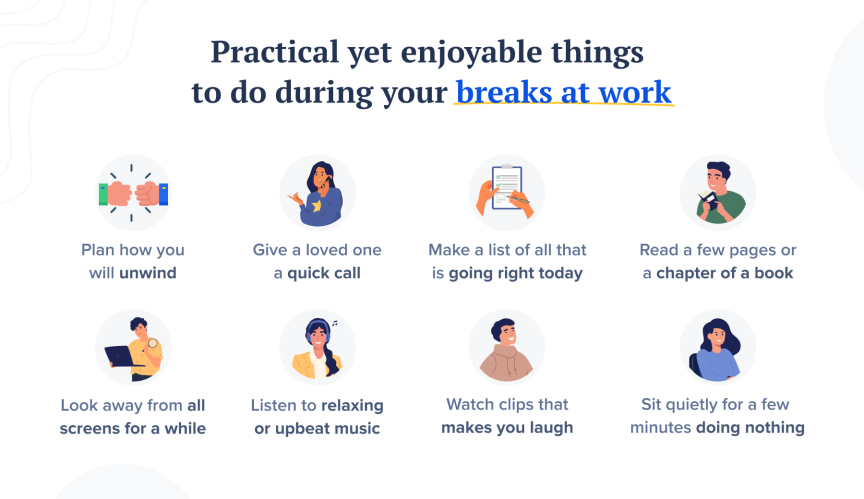 In closing
If you would like to work like a well-oiled machine, you can't possibly continue running on fumes. Breaks are the time we need to recharge ourselves so we can carry on our activities smoothly and effectively at work and in other areas.
About the author
Debanjali Saha is a counselling psychologist who works primarily with young adults using a compassion-focused approach in therapy. She is very passionate about Self-Compassion, a topic she has been researching since 2014. She works as a consultant content writer for Silver Oak Health. She also runs a wellness community called "Couch of Compassion", where she tries to help people relate to themselves with kindness through her writing and workshops.
Schedule a demo to learn how your organisation can get the best employee health and well-being experience with ekincare's commitment to quality.