Social media usage at work: A boon or a bane?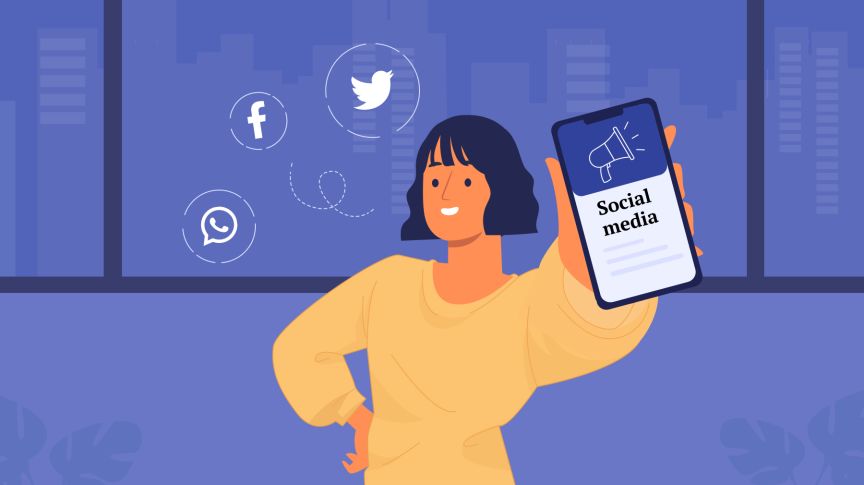 As much as there is a stirring debate about whether social media is good for employees in the office or a productivity smasher, there is a room full of ample opportunities that can be utilized to an organization's advantage or disadvantage. According to research by Harvard Business Review, 60% of the employees believe social media usage at work can accelerate their decision-making process and 82% of them believe that it can enhance relationships at work. One of the greatest mistakes of a company could be undermining the power employees have in marketing your brand voice through real stories. Some organizations have also observed that employees who are active on social media are more motivated than the employees who inherently refrain themselves from browsing through social networks.
Moreover, a lot of news feed pertaining to technology, industries, sports or entertainment are now all over social media. Social media has now become the go-to platform for producing meaningful and informative content. If your employees subscribe to accounts and blogs that are akin to your company's business and align with personal career goals, social media usage would be innocuous. Another creative and prolific idea would be to create groups for team members to collaborate and co-create work.
Social media & employee wellness
Employee wellness programs are now also adopting a socially collaborative approach with the utilization of biometric sensors and wearables for tracking health and physical fitness tasks. Corporate wellness could be the best excuse for social media usage. Sharing fitness challenges or conducting health and fitness competitions online will not prove counterproductive, but will work in favour of your employees' well-being which will directly impact their perception of the workplace environment. 
Of course, sometimes an excuse to explore content on social media could prove futile and counterproductive, leading to wastage of the productive working hours in the office. According to another recent report, 81% of workers reuse passwords across accounts and frequently sharing corporate passwords could lead to organizations' privacy breaches. It could also be an addiction for long hours. Social media usage at work is a big conundrum among researchers and leaders as well. So, here are some facts (including pros and cons) we gathered on the social media platform utilization during working hours in the office:
Pros
Boosting morale indirectly means that you respect your employees' private space.

Employer branding through real-life experiences and stories. 

Employee promoting a brand has a high impact.

Enhances the process of personality development and renders seamless internal communication among the workers.
Cons
Social media misuse for defaming employer's brand.

Social bullying and harassment.

Sabotaging content against an employer.
A clear strategy for effective usage of social media should be devised by the employer, ensuring that employee morale is not perturbed and simultaneously complying with the standards of the organization's privacy. Additionally, organizations must keep in mind and be meticulous after the duration of usage during working hours especially when in the hour of dire business need.