Life since 2020 has taken a turn for the unexpected, with people across the world facing unprecedented situations, such as social distancing, isolation on a mass scale, and an ever-evolving health crisis.
Ironically, in the midst of all this, it is often easy to forget self-care and one's general health and well-being. This leads to a never-ending vicious cycle of ill health, lethargy and higher chances of developing bad health habits.
To combat this vicious cycle, many employers offer preventive health checkups or sponsored online doctor consultations. Some companies go as far as to host a few one-time health-awareness webinars annually. However, all these attempts often fail to keep the workforce engaged with their health on a regular basis or make them feel included in building a healthier workplace.
This is where ekincare steps in!
We at ekincare believe that the key to a healthy and productive working population is daily, weekly and monthly engagement with beneficial health programs. To create an organizational culture of good health habits, we strive to consistently engage with our users using personalised activities and exciting gamified challenges on a regular basis. This helps employees across different industries stay fit and healthy while having fun in the process.
To take employees' engagement with their health to the next level, we are now introducing the Health Points (H-Points) feature, which essentially acts as a monetary reward for completing different activities on the ekincare platform.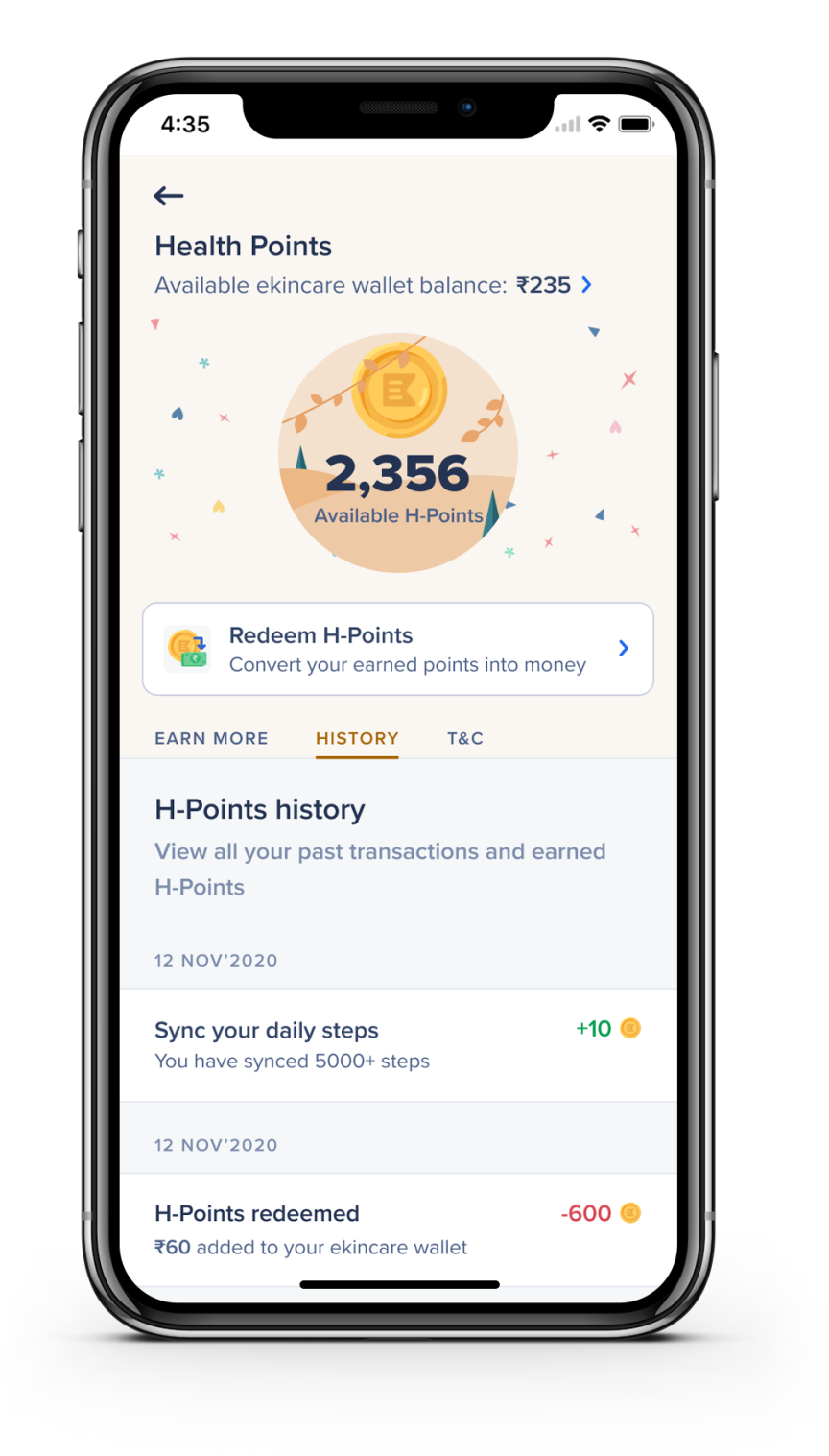 A look at the H-Points dashboard
How does this feature work?
The process is simple - users complete milestones in their health journey with fun activities and get rewarded with H-Points. Imagine being rewarded just for taking a walk! Users can sync a wearable or smart device with the ekincare app and complete their walking goals daily to earn H-Points. These H-Points are awarded for a variety of activities, such as:
Getting a health checkup done
Consulting with the Family Doctor
Completing simple health challenges such as practising better sleep habits
Taking up any health activity on the ekincare platform that helps build healthy habits
The best part is that this benefit is extended to the users' family members who are added to the ekincare platform.
How do users benefit from earning H-Points?
Every H-point a user earns can be redeemed in the form of ekincare wallet money. Each H-Point is equivalent to 1 paisa, which grows quickly over time. This wallet money can further be used to pay for any self-paid services on the platform, such as normal health checkups, ordering medicines from the e-pharmacy, and many other such services. These H-Points are eligible for unlimited utilization, and do not expire!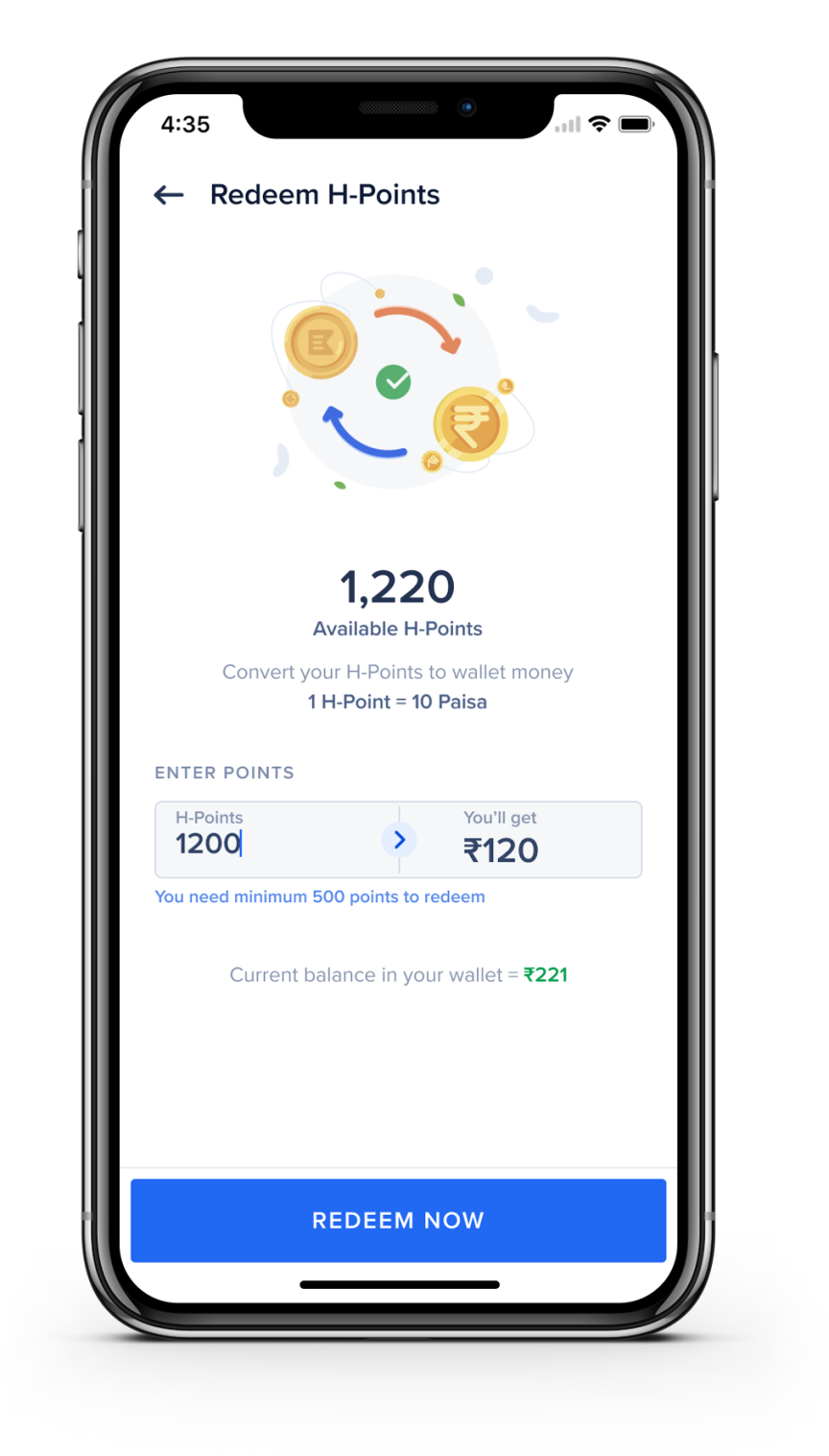 Redeem H-Points for ekincare wallet money
What is next for ekincare?
ekincare is working round-the-clock to identify many more healthy activities that help keep employees engaged in the course of their health journey with us. We plan to keep adding even more fun activities to the ecosystem as a part of our services.
In closing
The key to combating illnesses and unhealthy habits is to create a consistent habit of choosing healthier alternatives. Be it a healthy diet, regular exercise, consulting with the doctor, or taking care of one's mental health; it all comes down to creating a lifestyle that is filled with better habits. With the Health Points feature and our comprehensive employee wellness programs, we hope to help inculcate healthier habits within each and every one of our users, so as to create a healthier and more productive workforce for the future of the corporate workplace.
Schedule a demo to learn how your organisation can get the best employee health and well-being experience with ekincare's commitment to quality.