From Fitbit bands to Apple watches, wearable technologies are an absolute rage in our present! And these are fast changing the landscape of health & well-being right before our eyes.
Companies these days are even offering free devices to their employees, challenging them to not only monitor and track their own fitness levels but also stack them up against colleagues, in turn inspiring entire teams to be more active. 
In a very short span of time, the technology has gone from a fad to a full-blown industry in itself – with the potential to change the landscape of personalized health & well-being.
Experts believe that wearables will reshape the health industry beginning with health and fitness wearables like wristbands and watches. Wearables can transform the workplace not only by making employees healthier but also by making their jobs easier. 
According to a study conducted by experts from Goldsmiths, University of London, wearable technologies have been found to boost productivity by 8.5 per cent.
While fundamentally, wearable technology boils down to the ability to record personal health & physical activity in real-time while offering valuable insights & intelligence into the data at a later time! However, in the due course wearable technology now offers an unforeseen potential that can practically revolutionize personalized medicine and improve health for each individual.
Real-time data & notifications, reminders and the ability to network with peers have now made gamifications easier, adding a social layer to an otherwise mundane activity. Improved analytics now facilitate healthcare organizations to monitor patients' health from remote locations which also reduces their healthcare spending. 
BYOW (Bring Your Own Wearable)
Wearable devices in the enterprise environment are likely to mirror recent trends related to the consumerization of IT in the workplace, as we have seen with smartphones, laptops, and tablets. 
According to a survey commissioned by The Workforce Institute, 73 percent of working adults across the world see at least one potential workplace benefit with wearables technology. But just as BYOD (bring your own device) was a major shift in technology for managers of the workplace, so too is BYOW (bring your own wearable). This wave of integration has inevitably impacted the HR departments with a need for new management and privacy policies.  
ekincare too witnessed a massive number of wearables synced across 200+ corporates.
Can wearables help lower insurance premiums?
Wearable technology helps monitor vital signs and bodily functions, enabling employees to promptly address any underlying diseases.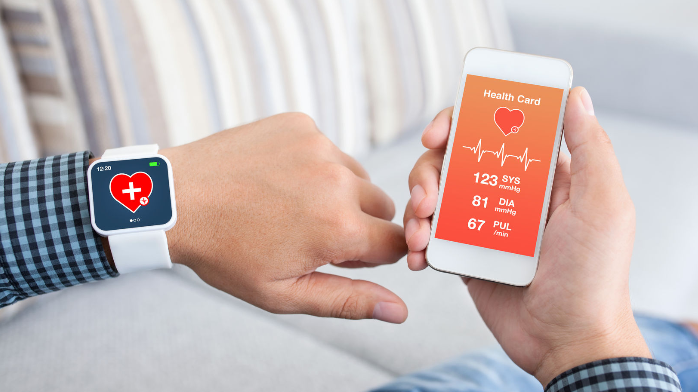 The data from these wearables can complement what is already collected through health screenings, helping companies in the long term to use this aggregated health data to negotiate insurance premiums better. 
Simply put, the more real-time data that an organization gets, the better it can be translated to a person's health. For example, if a person is healthy and maintains a healthy lifestyle, there would be incentivized monetary benefits on the premium and conversely, if the health is deteriorating because of an unhealthy lifestyle, the healthy premiums would rise. 
Such programs are prepared in a way that the employees can easily and effectively work on improving their health and lifestyle eventually profiting both the employers as well as the employee.
How employers could gain from wearable technology?
A healthy employee is a more productive employee.
By 2020, PWC predicts that over 75 million wearables will have entered offices worldwide. So, it makes sense to incorporate these devices into a pan-organizational well-being strategy, leveraging the data generated to inspire, manage, and assess well-being efforts. These numbers should be music to HR professionals' ears because it shows how willing people are to engage with programs and devices that have potential health benefits.
Employers can witness measurable ROI after implementing wearable technology initiatives, beyond mere cost-optimization.  As mentioned, wearable-focused corporate well-being programs can directly impact throughput, voluntary attrition, and other vital KPIs. 
Employers can also access real-time data on a corporate dashboard to get visibility into the health and physical activities of their employees. 
Wearables in the workplace
Studies suggest that employers are more committed than ever to health – and wearables are playing a role in their initiatives. Employers report the most common reasons for using wearables in the workplace wellbeing efforts as:
Improving the health of members 
Behavioral change 
Tracking steps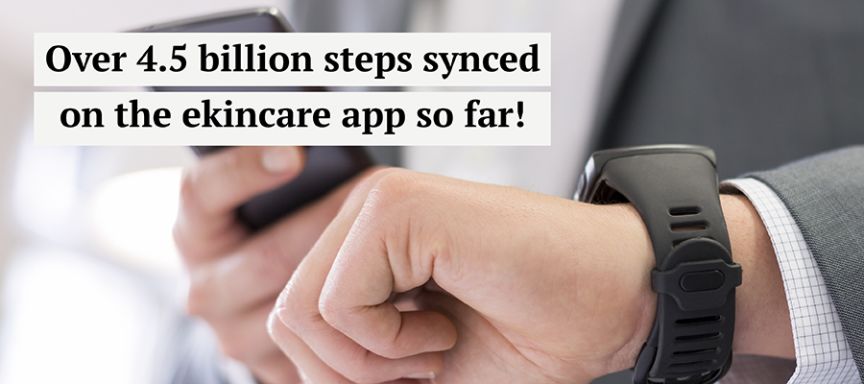 Let's take a look at ekincare's stepathon case study
In order to drive utilization and engagement for the distributed workforce in one of India's leading banking firms, where the HR team did not have appropriate tools to initiate and monitor various employees' health and well-being challenges, ekincare adopted a social gamification strategy with the employees.
As a part of the gamification strategy, a stepathon challenge was initiated for the employees which gave flabbergasting results.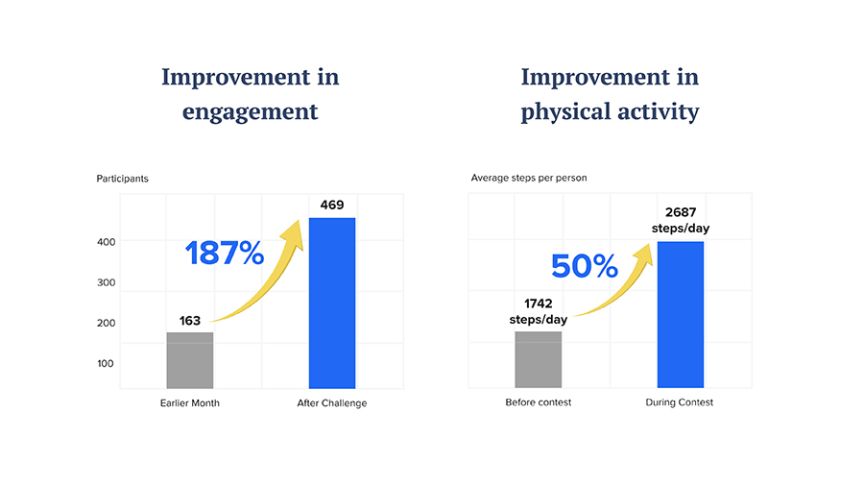 While it is just not enough to simply offer gym memberships or hold the occasional fitness session, the millennial generation is acutely conscious of their personal health and well-being. The rise in healthcare costs also makes it essential for employers to strengthen their well-being strategies, utilizing relevant health data to improve employee efficiency, engagement, and re-energize work-life balance. In other words, wearable technology could bring an era of preventive, data-driven workplace well-being in 2020.