For any company's growth and success, the best-performing employees should be one of the most important things to consider along with marketing strategies. A healthy staff is always capable of delivering better results and investing in them is more beneficial in the long run. Many organizations invest time and money in creating specialized employee wellness programs, which encourage their teams to stay healthy. The employee health checkup helps you to identify health issues before they become serious and affect the employee's performance. Hence, an employee health checkup designed considering your specific industry can be the first important step for both - the employer and employees. 
Importance of Employee Health Checks
The corporate sector brings immense stress, which ultimately affects an employee's health and gives rise to multiple diseases. Sometimes, it becomes difficult for them to maintain their health. So, they may need guidance and help with a healthy lifestyle and work-life balance. Regular employee health checkup packages help your team to keep track of their health status and thus take precautionary steps at the right time. The workplace health checkup for employees encourages them to re-evaluate their daily choices. It pushes them to go for a healthy lifestyle, balanced diet, daily exercise, and many more healthy habits. If an employee has unhealthy habits like smoking and drinking, then she/he can be encouraged to stay away from those habits.
Benefits of ekincare's health checks
ekincare believes that timely health checkups are the key to well-being. An integrated health benefits platform, through our digital platform, we help companies save up to 25% on healthcare costs and allow employees to schedule their health checks across diagnostic centers at low prices!
Large network of certified labs: Partnered with 500+ NABL / NABH / CAP / ISO certified diagnostic centers.
Pan India coverage: Covers 50+ cities across India. Supports Onsite camps across 2000+ locations
Uniform user experience:

Automated process of appointment, scheduling, confirmation and reminders through email, SMS and notifications.

Geo location based:

Search and book health checks within 5 KM radius on a map-based user interface for greater convenience.

Quality assurance: Partners are constantly evaluated through mystery shopping, health data patterns and non-performers are blacklisted.
Uniform pricing with discounts: An aggregator working with multiple corporates, we can negotiate better prices and provide uniform pricing across vendors.
Optimize costs and ensure well-being in your workforce
Organized health data and analytics can be used to customize health services to better suit your employees' requirements. 
In

telligent screening:

Using data from past health checks and health risk assessments, provide health checks that are actually needed. This saves money and does not put your employees through unnecessary health checks
Discounted rates:

Our aggregator model allows you to get the best prices in the market for sponsored services for your organization. Also, employees enjoy further discounts on out-of-pocket services through the ekincare app

.
Corporate Dashboard
The corporate dashboard enables the HR to determine major health risks in their organization and in turn, motivate the employees to take up recommended activities and improve the lifestyle of their company.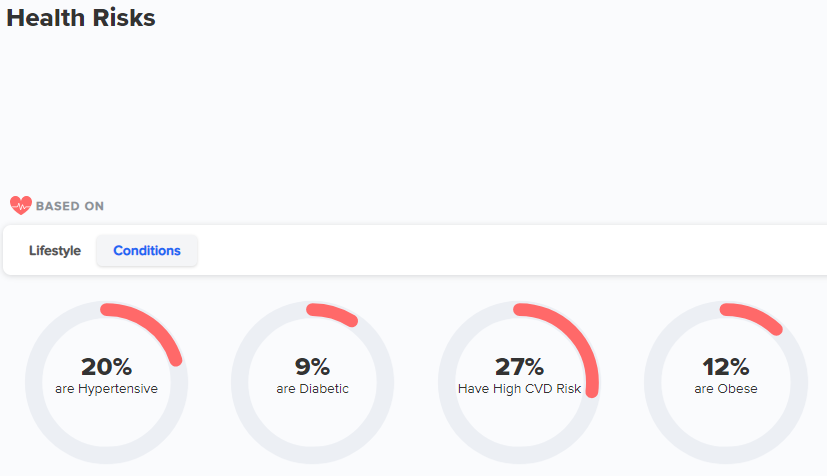 Corporate Dashboard is one dashboard to rule all the numbers.
Real-time analysis:

Follow numbers on a real-time basis, no need to wait for updated excel files from others.

Utilization and Health Score: Track utilization of ekincare portal, collated health risk data to get your corporate health score.
Health Risk Analysis: Look at comorbidities, cohort analysis of at-risk employees to identify specific action plans.
Insights from health-check data:

Get heat maps based on annual health check results to understand population health of your employees.

Secure data access:

Get individual login credentials for relevant HR team members to limit access.

Self-serve portal:

Update/add/remove employee list, manage data by department, location, shift etc. on easy-to-understand screens.
The time is now that companies realize the importance of investing in a corporate well-being plan and packages in order to make the workplace healthy. These health benefits ensure stability and helps in creating a strong bond between the employer and the employees.