Over the generations, people used to see their doctor only when they were sick, or dying. However, times are changing, and so is the relationship between the average person and their doctor. Health checks are becoming more commonplace as people become more educated and empowered about their own health.
With the onset of COVID-19, regular check-ups have become even more important. They not only help reduce the number of patients requiring medical treatment or surgery but also help save money in the long run.
Companies today are more aware than ever that their employees are their most important asset. To this effect, they also realize that keeping employees healthy has a direct impact on the organization's productivity and success.
Prevention is better than cure, and so preventive health for employees is the future of corporate well-being. Regular health checks, doctor consultations, and a comprehensive wellness plan help identify potential health issues before they become serious problems. Regular doctor consultations enable earlier detection of health issues or potential diseases, which in turn gives the best chance to receive the right treatment while avoiding unnecessary complications. Thus, it is very important to receive the right health services, screenings, and treatment to live a longer and healthier life.
Constituents of a typical health check
Identifying the correct health check package for employees is not easy, with each provider promoting their own preferred packages. At ekincare, we combine sophisticated tools with clinical inference to identify & create the ideal packages for teams across industries.
A typical health check consists of 3 separate components:
Pathology - These are the most common type of tests conducted. For preventive health checks, the primary sample collection methods are blood samples, urine samples, and stool samples.
Non-Pathology - These consist of external tests which include components related to radiology, cardiology, etc.
Consultations - Helpful in interpreting reports and identifying the next steps. Some of the various types of consults are as follows:
• General Physician
• Eye checkup
• Dental checkup
• Gynaecologist
• Cardiologist
• Nutritionist
Download the whitepaper for a more detailed analysis.
The components of Pathology
To identify the right standard package, we found out all the common components being used in at least 5 out of 659 packages designed across 200+ organizations.
The resulting broad categories are as follows:
 Sugar
 Heart health
 Electrolytes
 Infections
 Kidneys
 Liver
 Vitamins 
 Cancer
 Thyroid
 General tests 
 Stool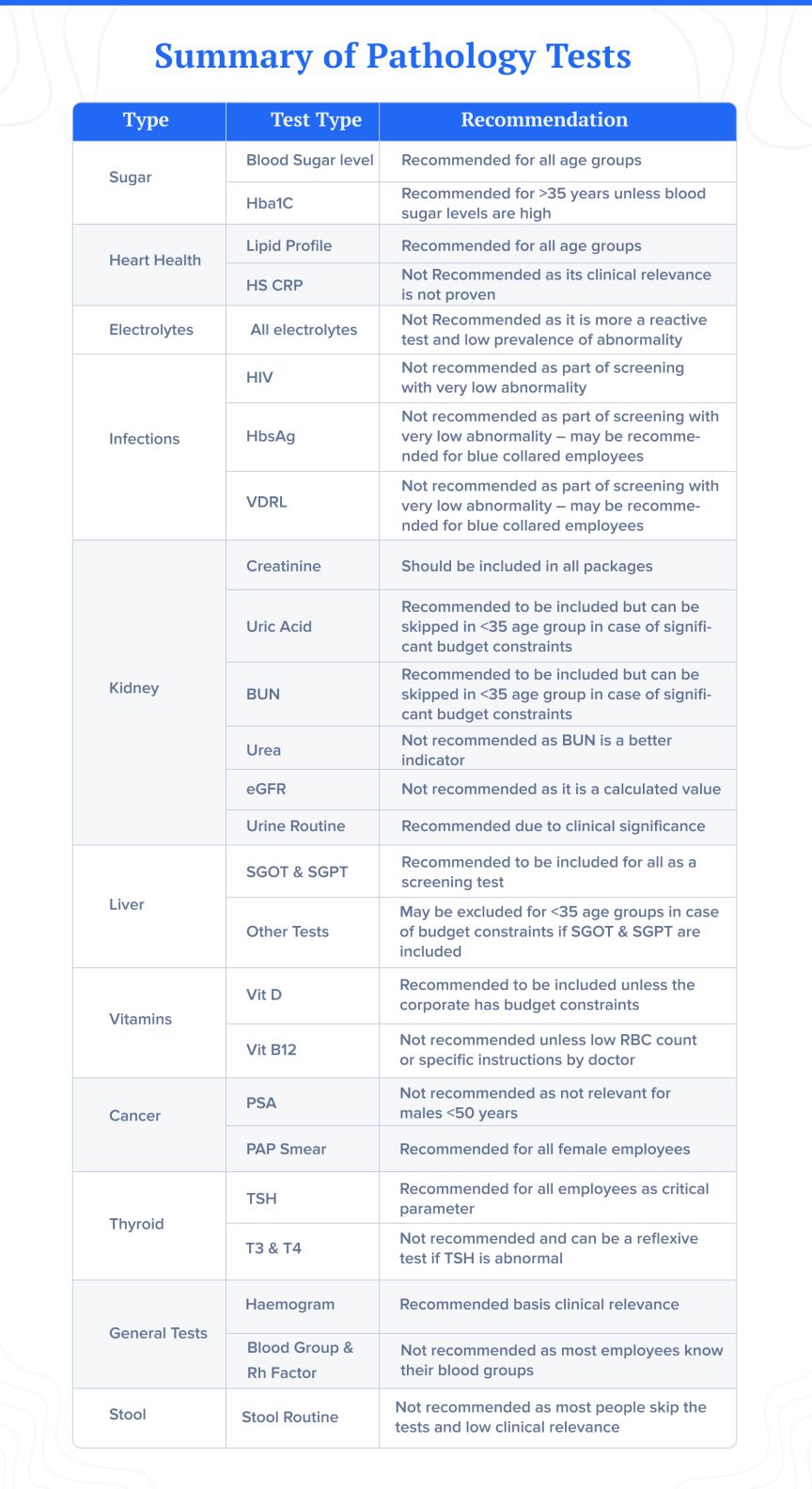 A quick summary of recommended pathology tests
The components of Non-Pathology
All the components which are outside the regular scope of pathology are considered here. The key areas are as follows:
Vitals
Cardiology
Radiology
Cancer symptom screening
Lung Function Test
Audiometry
Bone Mineral Density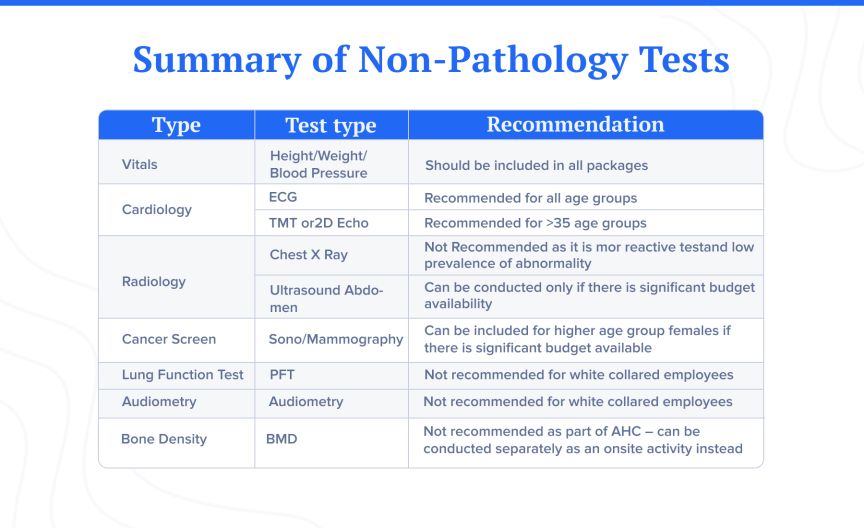 A quick summary of non-pathology tests
Download the whitepaper for a more detailed analysis.
What can you expect from a typical health check?
Based on the inferences in the previous sections, ekincare's highly qualified team of doctors recommends the following 3 sets of packages:
Advanced Package - This is the base package that takes into account the minimum parameters across all the recommendations, considering budget constraints.
Comprehensive Package - This package takes into account the most important parameters across all the recommendations while segregating the packages basis age and gender, with a few exceptions basis budget constraints.
Executive Package - This is the ideal package for all-around employee health which takes into account all the recommended parameters with no exceptions.
Furthermore, we recommend combining these packages with separate consultations with a family doctor, regular dental & vision checks etc. for maximum effectiveness.
Here is a checklist for preventive health screening for adults:
Annual Health Check (once per year) - Tracking family disease history, blood pressure, Body Mass Index (BMI), physical exam, preventive screening, and medical & emotional counselling.
Cancer screenings (as recommended) - Colorectal, skin, breast (for women), cervical (for women), testicular & prostate (for men).
Sensory screenings - Eyesight, hearing (Audiometry).
Required immunizations - Tetanus, Diptheria (Tdap), Influenza, Pneumococcal, MMR, Meningococcal, Varicella, Shingles, Human papillomavirus (HPV), Hepatitis A, Hepatitis B, Haemophilus Influenza (Type B).
Click here to learn how ekincare's employee well-being platform can help your organization.
In closing
With the increasing prevalence of non-communicable diseases & lifestyle diseases in the Indian population, it is important to identify and act upon risk factors like obesity, smoking, alcohol intake, sedentary lifestyle, unhealthy eating habits, sleep and stress-related issues. This may help everyone prevent diseases. Detecting conditions like hypertension, diabetes, hypercholesterolemia, fatty liver disease, thyroid conditions etc. early can help patients take timely action and prevent long-term consequences such as organ damage.
As we have noted before, preventive health is the future. ekincare's health checks and risk assessments combined with doctor consultations lead to better health awareness among users. For employers, these services result in lower disease burden on the employees, long-term well-being of the employees, low absenteeism, lower insurance premiums, and most importantly, a healthy, fulfilled, engaged and productive workforce.
Schedule a demo to learn how your organisation can get the best employee health and well-being experience with ekincare's commitment to quality.