On-site Medical Rooms are a great way to control the overall organization's healthcare costs. These rooms provide preventive care and treatment to employees at their place of employment, thus increasing their attendance at work. On-site medical rooms are particularly beneficial for decreasing the number of off-site, health-related, patient care visits.
While due to the recent COVID-19 outbreak, there are a lot of concerns among the employees leading to a rise in stress and anxiety issues, employees who are working on-site are primarily concerned with two aspects:
The safety measures taken at office premises 
Their family's health back home
In such a scenario, the presence of On-site Medical Rooms in the corporates combined with Telemedicine services play a crucial role in ensuring employees' health and safety. Companies such as Mphasis, Smartworks, Coca-Cola, Aviva, and CGI are some of the companies that have successfully implemented the benefits of medical rooms.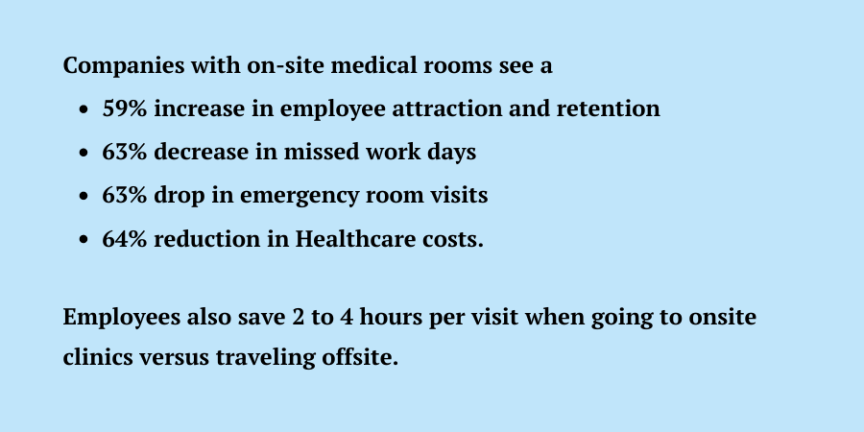 Benefits of the on-site medical room
Reduced healthcare costs: With quality healthcare available at the workplace, injured and sick employees can get immediate medical care for non-emergency conditions, for a fraction of the price of an emergency room.
Increased productivity: Even if an employee's medical visit only lasts 15 minutes, that's a small fraction of the time it takes to travel to a healthcare provider and wait. When this is pretermitted, it increases employees' focus and productivity at the workplace. 
Increasing preventive care: Management of chronic conditions, including assessment of compliance with medication so as to prevent any complications, can be provided more effectively in an on-site medical room where there is easy and instant access to care. 
Facilitates trust among employees: By providing on-site care, the employer is perceived as caring for the well-being of employees, thereby improving employee satisfaction and engagement.
Here is the Medical Room process flow followed at corporates: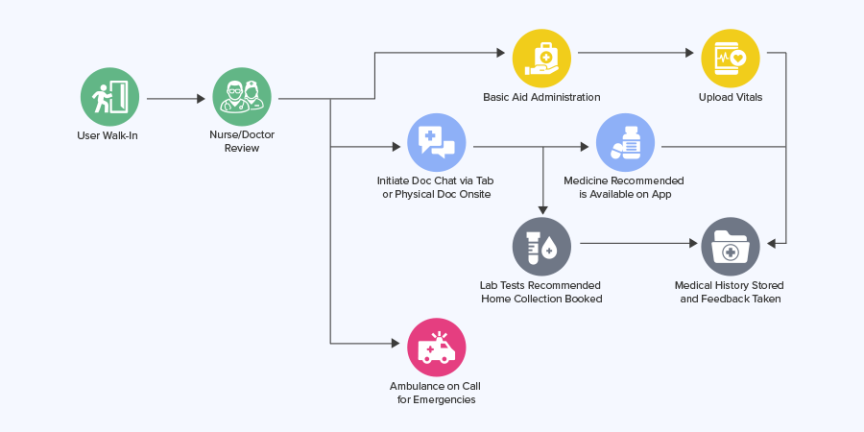 ekincare's holistic approach towards employee well-being
Though on-site medical rooms serve as a great way to ensure employees' health & safety, a holistic health benefits approach should be followed to deal with employee mental well-being amidst this crisis, which is a right mix of awareness along with on-demand health services such as:
Access to doctors 24*7 to tackle any health emergency 
Awareness of physical and mental health issues through webinars
Virtual fitness sessions to improve the overall health of employees
Access to care management programs for employees with chronic conditions
Access to psychologist consultations
24*7 Doctor Consultations
Employees are provided with an option of connecting with an MBBS-qualified doctor 24*7. Scheduling of follow-up calls post the consultations is also enabled. 
Awareness through Webinars
A lot of corporates relied on webinars by healthcare experts to help their employees deal with stress, fatigue, nutrition, etc. during these tough times.
Virtual Fitness Sessions
Several organizations have leveraged virtual fitness sessions to drive employee engagement and a healthy lifestyle. Online Zumba, yoga, and high-intensity workouts have been employees' preferred virtual fitness sessions across organizations.
Care Management Programs
The care management programs help employees with chronic conditions much better, especially in today's scenario where people with chronic conditions have difficulty recovering from COVID-19.
Mental Wellness / EAP Programs
Professional counseling services by qualified and experienced clinical psychologists, trained in Cognitive Behaviour Therapy (CBT) and Positive Psychology is also available for employees. 
Whether companies are looking to reduce healthcare costs, improve employee health and productivity, or all of the above, an on-site medical room might be the best for their workforce.