While managing and providing adequate health benefits is important for employers, it can also be one of the biggest investments. Developing an employee benefits strategy that is both impactful and cost-effective is a balancing act.
A meaningful employee benefits program that equally meets employee needs and employer objectives are needed for both recruiting and retaining a company's most valuable resource: its employees.
Since the concept of holistic health management has been followed for quite some time in India, employers view it in different ways. Short-term management can result in short-term benefits, but employers who move beyond it to an all-encompassing approach that focuses on preventive care and the promotion of healthy lifestyles will see more significant results — and greater cost savings — further down the road. A successful health and well-being strategy can encourage employee engagement, boost workforce effectiveness and shift the entire culture of the organization toward a healthier path.
Here are a few major challenges HR teams face while delivering health and well-being programs to their employees.
Rising Healthcare Cost
Lack of effective communication
Lack of Appropriate Technology solutions 
Insufficient employee engagement
Rising Healthcare Cost
Health care costs, and consequently employee benefits costs, have been increasing at an alarming rate for nearly a decade.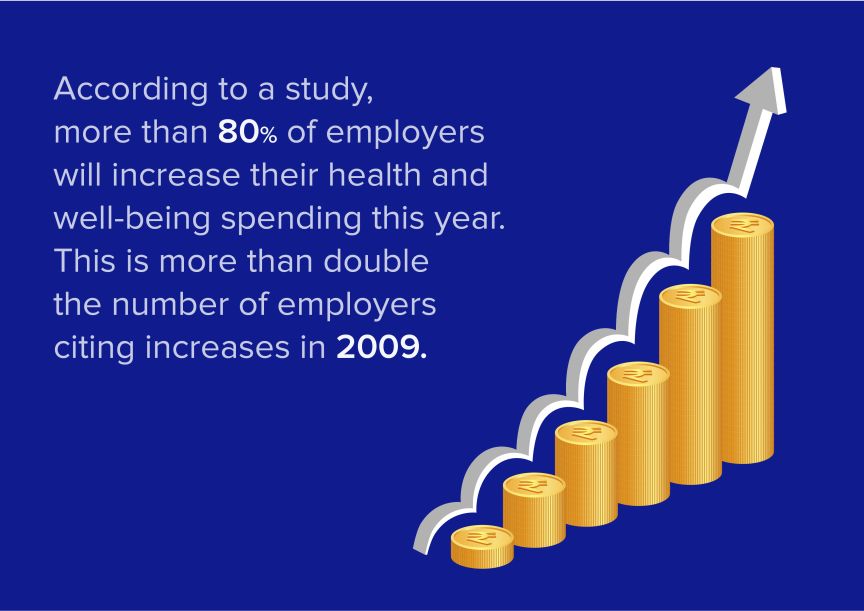 So why are healthcare costs skyrocketing?
There are multiple factors that contribute to climbing health care costs over the past decade:
Increased prevalence of chronic diseases
Greater access to mental health services
Demographics
Expansion of health care providers
Increased utilization and consumer demand
New medical technology
Health care spending and medical cost inflation
Increased prescription drug costs and many more
Consequently, this high healthcare cost has become a major factor influencing employee's health care decisions. For instance, most employees enrolled in healthcare plans are more likely to delay or skip care for fear of incurring huge costs. 
How to overcome this challenge
Exploring effective strategies like using health care data to make strategic health plan decisions can help employers curb excessive healthcare spending while providing high-quality health benefits to their employees.
Providing flexible health benefits to employees wherein they can decide what benefits they want according to their own needs and save money.
ekincare has saved $1Million+ in healthcare costs in the last 12 months.
Lack of Effective Communication
It's time now that organizations must realize that an effective communication strategy that is segmented, creative, multi-channel and sustained over a campaign period is absolutely critical for employee participation, engagement, and eventually the success of any health and wellbeing strategy.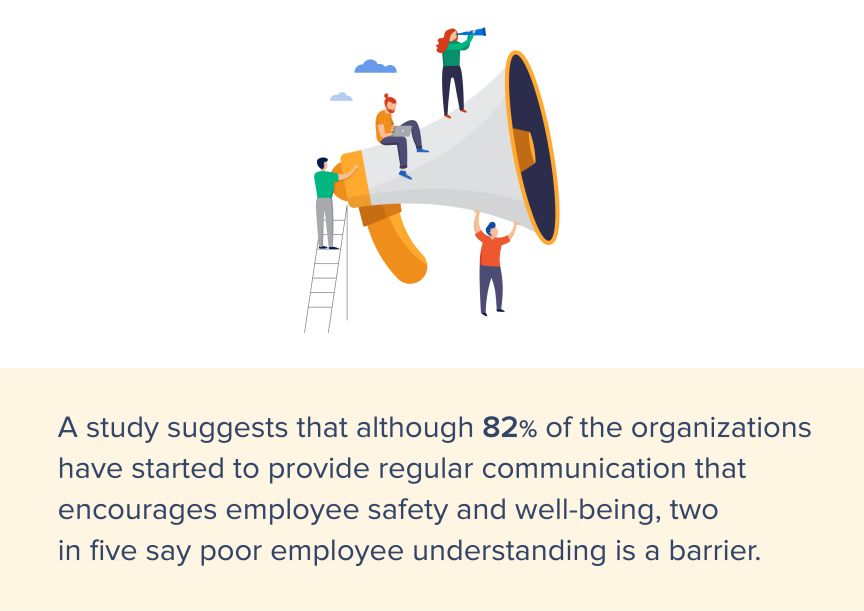 How to overcome this challenge
Regularly communicate internal and community events and options that encourage physical fitness and wellness. 
To achieve the best results, it's important to communicate regularly with your employees in ways that are meaningful to them like meetings, emails, posters, leader visits, etc.
Offer employees the opportunity to give feedback on how the program is working and be responsive to their observations.
With regular communication, at least once a week, ekincare witnessed up to 80% registration by employees on the well-being platform. 
Lack of Appropriate Technology Solutions
Technology is also being increasingly leveraged. When we think about technology in the context of health and wellbeing, we might think about wearable devices or smartphone applications, but there is a wide range of solutions. Recent decades have seen a number of advances, such as improvements to occupational health systems, attendance management software, health risk assessment tools, and wearable devices.
While these devices and other advancements result in a tremendous amount of health data being generated every second, it becomes difficult for the organizations with no proper technology solutions to digitize and structure this data, thus making it arduous for them to create a preventive, predictive and highly personalized healthcare journey for employees. 
According to a survey, over the next three years, 67% of the companies will be using the web and mobile-based lifestyle behavior coaching programs and 58% will be sponsoring the use of wearable devices for tracking physical activity or nutrition.
How to overcome this challenge
The ease of accessibility and real-time data of employees can put well-being constantly at the forefront of employers' minds.
HR professionals can track employees' progress constantly motivating and encouraging them to stay on course and commit to achieving their personal health goals.
Providing fitness wearables to employees can transform the workplace not only by making employees healthier but also by making their jobs easier.
Read more: Evolution of Fitness Wearables in Corporate Well-being
Insufficient Employee Engagement
Employee engagement in the health and well-being program is about more than just showing up at a health screening or other activity to receive an incentive. Although engagement involves creating and maintaining a sincere interest and involvement in living a healthy life—at home and at work. Workplace well-being programs are only as effective as the proportion of employees who are truly engaged in the program.
While disengaged employees can cost the economy between $450 billion and $550 billion each year in lost productivity, more and more employers are feeling the business impact.
In fact, after reducing health care costs, employers cite "improving employee engagement" as their second-most important objective for offering a well-being program.
How to overcome this challenge
Use a variety of communication channels to increase engagement.
Highlighting program success can build excitement and create positive peer pressure within your company. 
Stepathon is one proven form of challenge to help improve engagement among employees and get them to walk more on a day-to-day basis. 
The stepathon challenge initiated by ekincare for one of its leading clients gave flabbergasting results with a 187% increase in employee engagement and making employees walk 50% more than average. 
On the other hand, the inter-corporate stepathon organized by ekincare in the month of January was indeed a huge success with over 100+ corporates actively taking up the challenge. 
Conclusion
Employee health and well-being programs are certainly not without challenges. They are a significant undertaking that requires constant attention and resources to achieve their greatest potential. 
By understanding the responsibilities and struggles HR departments face when delivering employee health and well-being programs, ekincare can help you prepare and implement the right strategies to stay profitable. The benefits landscape is one that is constantly changing, and there is a multitude of options to choose from, so it's important to stay well informed and up-to-date with what there is to offer.