As an HR professional, have you wondered how you can find new ways to increase your employee engagement and productivity? Have you, as an employee, received an offer from a company offering health benefits that suit your requirement more and realized that your existing company's health benefits aren't that appealing? Have you wondered if you have more health and emotional well-being needs beyond the traditional insurance benefits that organizations offer? 
Times have changed. People have become more conscious of eating healthy, exercising regularly, monitoring their stress and sleep cycles, and keeping an eye on their as well as their family's health. As with everything else today, there are a variety of solutions for every problem in the market and people are inclining more towards a preventive lifestyle than to cure an ailment when it occurs. Now is the need for organizations to offer health benefits that focus on preventive care in addition to just helping cure illnesses through blanket insurance packages.
Wouldn't it be nice if employees of an organization have the autonomy of using dedicated funds for themselves to spend on their personalized healthcare needs? We believed it would be great and so we took a step to solve that problem. 
ekincare is excited to launch its first new digital healthcare solution — SPENDING ACCOUNT — that focuses on two things — 
Empowering each and every employee of an organization to access a variety of healthcare and emotional well-being solutions from the comfort of their home.
Ensuring that the HR partners are able to adapt to changing times and find new ways to increase employee engagement and productivity.
Overview of Spending Account
A spending account is like a bank account with money put in it. The account is personalized towards buying health solutions such as Health Checks, Chronic Care programs, Doctor Consultations, Gyms and fitness sessions, pharmacy orders, and so on. HR professionals have the liberty to set spending limits on each of these health solutions and can also define who gets to use the benefits — only the employee and/or family members of the employee. Putting funds directly into an employee's Spending Account instead of deciding what is good for their health gives each and every employee the autonomy to decide what's best for them and their family members. We used our strength in product design to describe in detail what an employee gets, how much do they get, who gets it(employee and/or family members), and how to utilize the funds.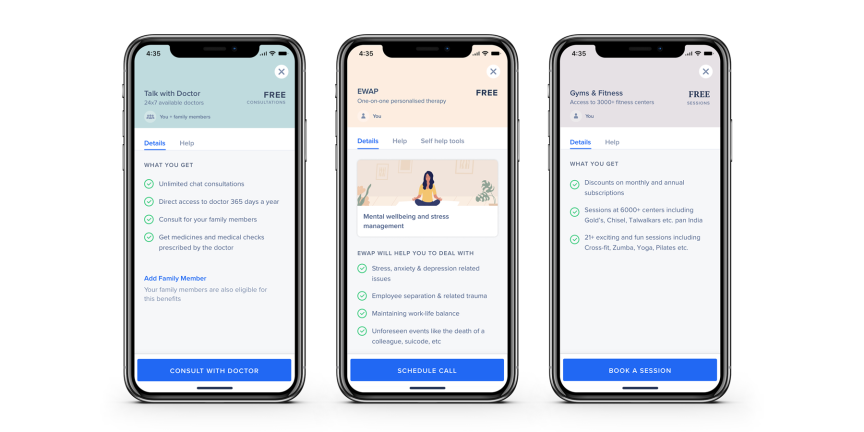 Different healthcare solutions for our customers through a Spending Account
Need for a Spending Account
The COVID-19 pandemic has created chaos across the world. With an ongoing recession, millions of people have lost their jobs and businesses are the first spectators to finding out how the health outcomes of employees affect business productivity, and in turn the economy. The pandemic has allowed corporate to understand how employee engagement, and in turn their productivity, can be increased by empathizing more with their health and emotional well-being. 
For instance, a PayPal employee shared how encouraged she feels to put in more effort at work when PayPal sent office furniture and several health solutions to her home to help her be more efficient at work. Another ex-colleague from a multi-national company shared how their organization recognized that the majority of their employees have unhealthy lifestyles(drinking, smoking, no exercise, bad diets) and sponsored healthcare programs(that include nutritionist, fitness, and doctor consultations), so employees can enroll and get more insights into leading a healthy lifestyle during these tough times.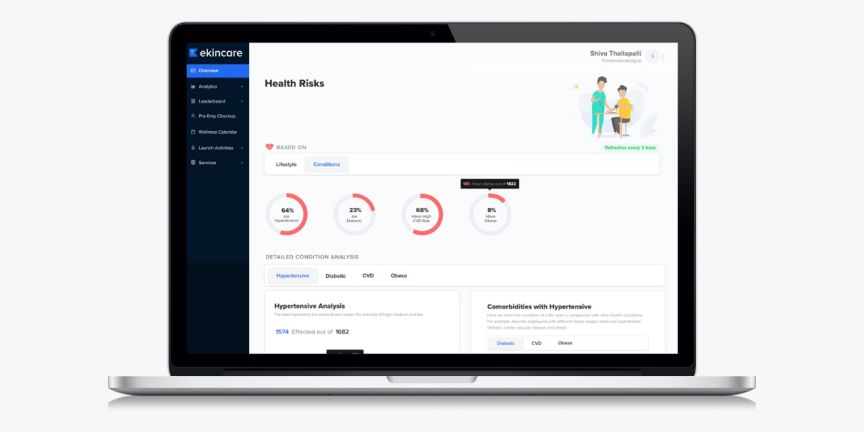 ekincare's Corporate Dashboard (dashboard for HR professionals) shows the health risks of employees
Personal health crises of employees have always affected businesses but not much innovation has been made in the corporate benefits space. For decades, employee benefits revolved around basic insurance coverage and health checks that have been a blanket solution to a problem that requires personalized care. Most common health conditions and chronic diseases such as Diabetes, Hypertension, Obesity, and Cardiovascular diseases have been at the forefront of creating health, emotional and financial stress to employees.
How ekincare revolutionizes employee healthcare
With growing stress among employees due to busy and demanding lives, and with increasing technological developments, there is a need for corporates to look beyond the routine health solutions offered to the employees.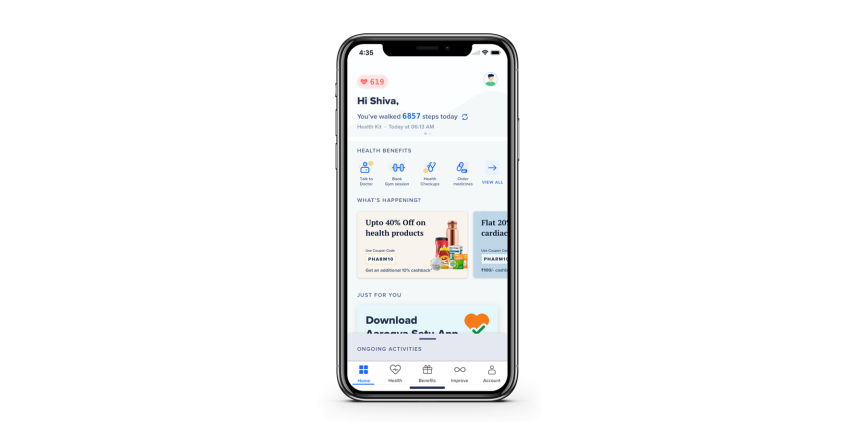 Snapshot of ekincare app's main page
At ekincare, we focus on employee well-being as our core principle when we form partnerships with corporates. Our corporate health solutions — such as Talk with Doc 24/7 (telemedicine platform to connect with a doctor in less than 30 seconds), Gyms & Fitness (access fitness centers across India), Stress Management Therapy to combat toxic work culture and relationship problems, discounted pharmacy orders, Chronic Care Programs for illnesses such as Diabetes — have enabled employers to offer more than an average market solution to their employees. We have seen that offering such preventive solutions to employees has
Given employees a personalized approach to taking care of their health.
Saved crores of rupees for corporates in otherwise what would have been lost employee productivity, insurance claims etc.
Although we have been able to add value to our corporate customers and employees with our advanced healthcare packages, we noticed that there is room to make these healthcare solutions even more personalized for the employees. Hence, we realized that a big step towards offering personalized healthcare solutions to our customers is possible through a Spending Account.
Conclusion
At ekincare, we believe that a Spending Account will be an empathizing solution for every employee to take care of their health in a personalized way that matters to them. From an HR's perspective, we believe that this feature will help their organisation to improve the employer-employee relationship, which will in turn boost the organisation's end goals. 
To know more, write to us at sales@ekincare.com.