As 2021 winds down to a close, the world is still reeling from the effects of the COVID-19 pandemic. Over 2 years of facing such a relentless crisis have shown us just how resilient humankind can be, while also bringing to light many areas of business, health and well-being that need to be strengthened in order to recover from the effects of the pandemic.
Major changes in employee health benefits this year
The Kaiser Family Foundation (KFF) recently released this year's "Employer Health Benefits Survey", which shows how health benefits changed over the course of 2021, excluding the most commonly implemented change of ensuring that their employees received the COVID-19 vaccine. Listed below are some of the highlights, both from the survey and ekincare's own reports.
This also accounts for 16% of companies that offered newer resources to better manage mental health, such as Employee Assistance Programs (EAP). 6% of employers also reported that they have grown their network of mental health and substance abuse recovery partners. While these numbers are smaller in comparison to other services, they show a positive trend in the implementation of additional mental health and well-being support programs that will positively impact employee health in the long term.
COVID services were the need of the hour: 

As soon as the possibility of a COVID vaccine was made real, companies and employees all over the world hoped for a solution to the pandemic. ekincare has been a proud facilitator of COVID vaccination drives across India. With 

more than 1.25 lakh vaccines and 6500+ RT-PCR tests implemented so far

 (and counting!), we are glad to have played an important role in 

helping India achieve 100+ crore vaccinations.
Ease of access became an important goal:

 While keeping employees healthy and productive was always the primary goal, 

ekincare also saw the growing need for easier access to health benefits

 as a great opportunity to implement certain features. 

Our network of cashless service providers grew from 40 cities in 2020 to over 200 cities in 2021 - a 400% increase!
According to ekincare's own reports, telemedicine and teleconsultations with doctors showed a massive surge of 125% compared to 2020. With over 90,000 teleconsultations this year versus 40,000 in 2020 and 10,000 in 2019, our data shows that telemedicine is here to stay.
Moreover, as per our data for 2021, e-Pharmacy orders went up by about 40%, with 30,000 orders being placed across over 27,000 pin codes throughout the length and breadth of the country. With incentives and discounts being offered on e-Pharmacy orders, users were able to save more than Rs 18 lakh combined!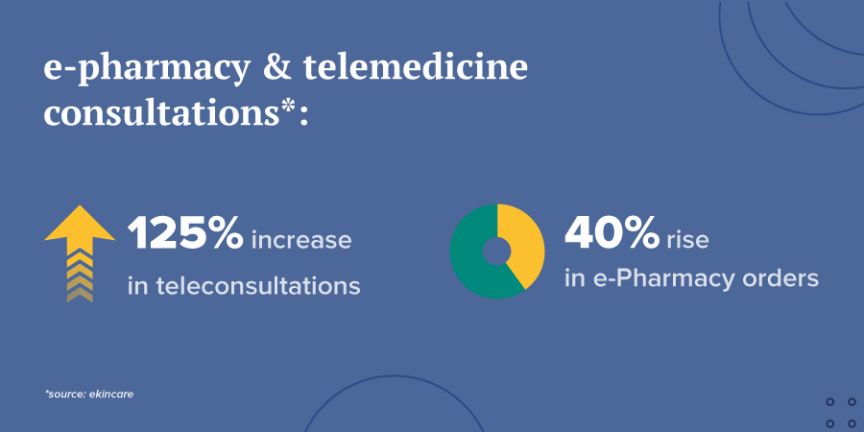 Telemedicine, doctor consultations and e-Pharmacy orders are on the rise
Interestingly enough, ekincare's data has shown that contrary to popular belief, Indian companies today are taking their employees' health very seriously. Compared to Multi-National Companies (MNCs), which have a 57% share; Indian companies command an impressive 43% of the market share in their spending on employee healthcare. This shows a clear rise in the shifting priorities toward employee health as the future of the corporate workplace, regardless of geographical location.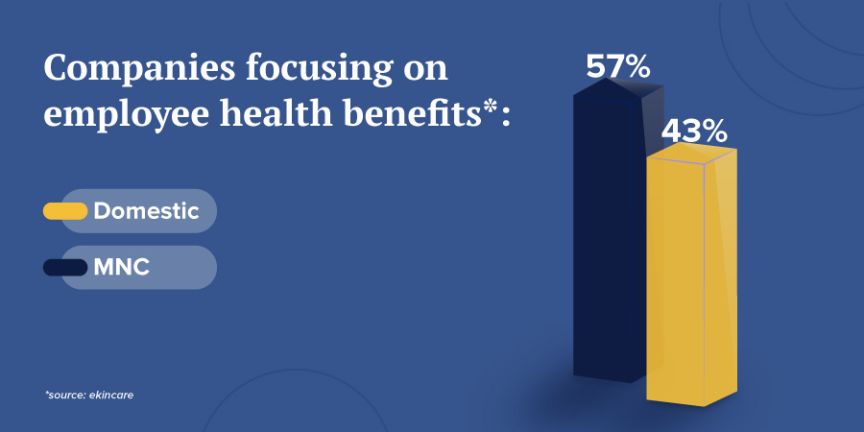 Indian companies are nearly on par with MNCs in their employee health spends
In closing
The future of the corporate workplace at large depends on the well-being and productivity of its members. Company leaders, HR professionals and employees must be in complete sync when it comes to communicating their needs on the professional and health front. By combining all of these aspects, the company's leaders become more cognizant of employees' needs, while employees, in turn, feel heard and included in the decision-making process when it comes to their health and well-being. The past year has shown us that employers are making substantial changes when it comes to implementing better employee health benefits programs. The future may be full of yet unforeseen challenges, but adapting and thriving in the face of these challenges is the way forward to a better future for employees and organizations alike.
Schedule a demo to learn how your organisation can get the best employee health and well-being experience with ekincare's commitment to quality.