The COVID-19 pandemic has had a lasting impact on the lives of people across the globe. Corporate professionals were especially affected by the lifestyle changes mandated by the virus. Working from home and remote workspaces became the new normal.
Now, COVID vaccination drives have picked up across the world and cases are steadily going down. Various companies are beginning to debate strategies to bring employees back to office. Yet, this is an important decision, and leaders have to consider the best way forward for all. There is no one-size-fits-all approach that will yield optimal results.
After over 2 years of working from home, organisations may face challenges when they ask employees to come back to work in an "office environment". Many companies are considering a flexible and "hybrid work" model. But, changing the status quo will impact the professional lives of employees across industries.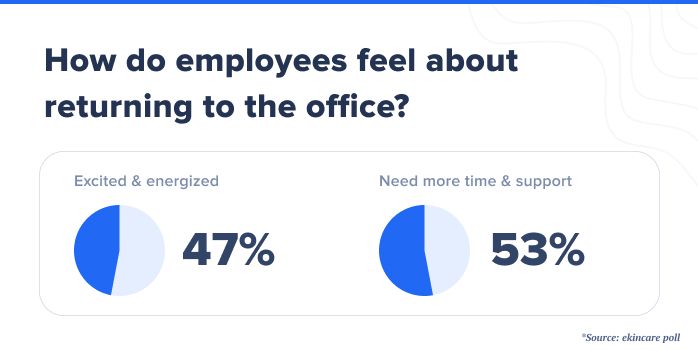 Employees are almost evenly split between working from home and returning to the office
Top 5 strategies of Return to Office
1. Conduct outreach on employee sentiment - HR leaders may consider sending out polls and questionnaires to employees. This will help specify expectations on how and when employees will be asked to return to office.
A phased approach may help. Certain employees may rejoin the physical office immediately, while other employees with obligations can wait a bit longer. This way, individual employees have the freedom to connect with their supervisors to plan out a personal re-entry timeline.
2. Don't rush the process - Employees need to deal with many different types of situations when working at the office versus working from home. This includes the added commute time, dealing with a "new environment", i.e. the workplace, and even engaging with co-workers in person.
These factors demand more energy, and so professionals need to prepare for some adjustments for the first few days.
Employees may also speak with their manager about ramping up the process instead of going all-in from the first day back. One could work from the office one day per week for a couple of weeks, then raise that to two or three days per week, and then finally go up to a full week.
3. Flexibility is the key - This is a challenging situation, and so asking employees to go back to office will work best when HR leaders take all the information into account. Being rigid on official policies and trying to force employees to attend office in person may backfire.
Follow a flexible approach that considers the personal struggles of employees for best results.
Giving employees a choice to be flexible in going back to office may also improve their work performance.
Flexible health benefits plans can also help alleviate employees' concerns about their health in the long term.
4. Corporate wellness programs - If the pandemic taught organizations anything, it's that employee health and well-being are of the utmost importance. While India Inc. is no stranger to corporate wellness packages and employee assistance programs, they still have a long way to go.
Well-planned employee assistance and corporate wellness programs help boost morale, productivity, and overall employee health.
With more people back at the office and working in close proximity, the team's productivity will depend on the health and well-being of individual team members.
5. Maintain clarity on safety protocols - Post-COVID, it is important to reimagine the office environment to ensure the safety of all employees. This includes:
Social distancing, keeping collaborative workspaces sanitized, and replanning areas that attract a large number of people, such as the lunch area.
Using technology to help schedule employee attendance. This helps team members know when it's feasible to go back to office.
Informing employees about office cleanliness protocols.
Ensuring visibility of the number of team members working on any given day to plan & enforce hygiene and safety norms.
As per Hibob's global survey, over 90% of organizations reported that a flexible work environment aids the professional development of women. This is especially true in the case of working mothers.
Hearing employees' concerns and allowing them to voice their opinions makes them feel cared for.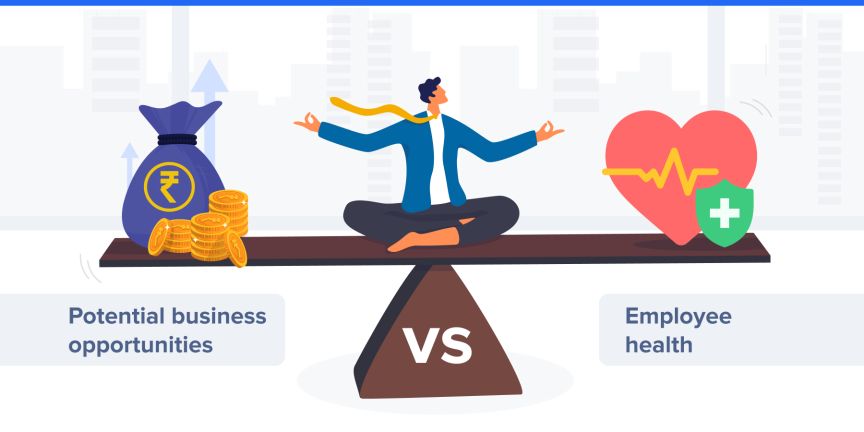 Companies are gearing up for a return to the office
HRs & corporate leaders' thoughts on the matter
Richard Lobo, Executive Vice President, Head HR, Infosys: "In a steady-state, subject to COVID scenarios, we expect a hybrid model in which approximately 40-50% of employees are likely to work from office post subsequent phases of returning to the office."
Shantanu Jha, Senior Vice President, HR, Cognizant: "Cognizant aims to return to office in a phased manner starting April 2022 as we monitor the uncertain path of the Omicron variant. Until then, travel will be restricted, and office-based work will remain voluntary."
Gunjan Samtani, Head of Goldman Sachs Services in India: The organization's "culture of apprenticeship and collaboration" is at its best when people work together in person. "With the COVID-19 situation easing in Bengaluru and Hyderabad, we welcome all our fully vaccinated employees back to office in early March, with continued consideration for personal circumstances."
In closing
While COVID introduced drastic changes to everyone's daily lives, things are on the mend. Returning to the office, with all its challenges and positives, may very well be the final push India Inc. needs to create an exciting new normal.  HR leaders can help ease the transition of going back to office & deal with any other challenges that may arise in the process. This can be done by understanding the needs of the hour and employing a well-planned approach.
Schedule a demo to learn how your organisation can get the best employee health and well-being experience with ekincare's commitment to quality.