The spread of the novel Coronavirus may diminish soon, requiring employers to begin reopening their businesses and welcoming back employees. Employers need to be ready to confront the issues concerning a post-pandemic workplace.   Business guidance and legal requirements are changing rapidly. 
In this webinar by Peoplezenn and ekincare, our speakers Dr Noel Coutinho - Chief Business officer eKincare, Divya Mishra - Head HR, GDC Landisgyr, and Parveen Sharma-Director- IT CIFF discussed the challenges that companies would face while getting their employees back to work and preventative measures to be adopted post lockdown. 
Current employee well-being policies in these trying times
Taking into view these unprecedented times, Divya Mishra says that this time looks like a tunnel but not to forget, there is always light at the end of the tunnel. This past one month has made everyone grow and learn a lot, and she believes that everyone will come out of it even stronger.  It is in these times that the role of HR leaders becomes even more paramount. This current situation has added multiple changes in the employees' lives - working from home, balancing work and life together, and being worried about their health and livelihood which eventually leads to stress and anxiety. 
It is highly required that HR leaders follow the basics and give employees the feeling of belongingness that they feel free to reach out to their employers in times of need. It is not just the physical health that needs to be taken care of, but the employee's mental health too. Regular connects with the employees, online yoga sessions, and employee assistance programs are some ways organizations can help employees fight this pandemic the best way. 
Best ways to manage well-being to have optimal productivity
To this, Dr Noel put forward his point that in these tough times, employees are more actively using the health benefits and well-being services provided to them. According to a survey done by ekincare, it has been observed that COVID has taken 99% of our mindshare and mind space. 
ekincare has witnessed a huge spike in telemedicine services since the first COVID case got reported in India with an overall 70% increase in online Pharmacy orders.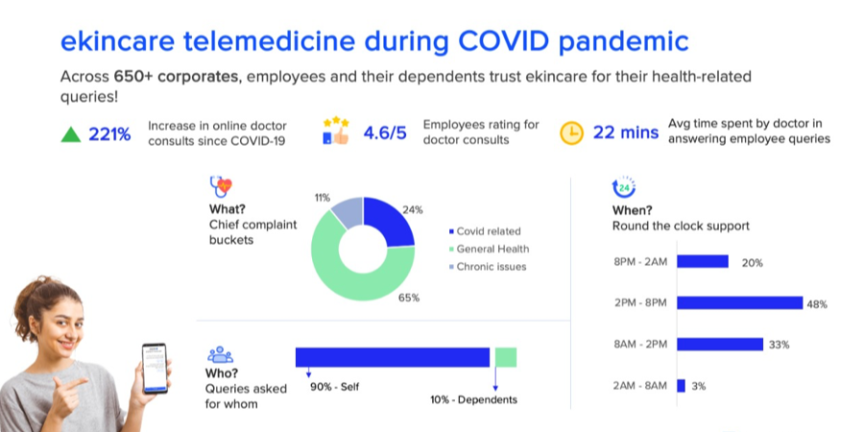 While it was also observed that only 24% of the total queries were around COVID and 76% of queries were about everything else other than COVID, he, therefore, suggests people not to get myopic by just putting it through a COVID perspective or just a mental well-being perspective. We need to look at it through a more holistic view wherein every aspect of health is equally important.
Organizational framework to fight COVID
Since almost half of humanity is under lockdown and every day COVID is posing a new challenge to the world, Mr Parveen Sharma says no single framework can help organizations get out of this situation. He believes organizations need to have step-by-step plans to counter this situation - an Emergency Response plan, Recovery plan, and Restoration of services to the new normal. 
Organizational challenges in getting employees back to work
While there would be multiple challenges that organizations would face once their employees get back to work, dealing with employee fear would be one such challenge because the new normal work environment might no longer be normal for them. 
Operational challenges would be another one. Employers need to be looking out for employees' seating plans, making sure social distancing is maintained while keeping the business continuity plan in place. 
Employee communication and preparedness is another thing that employers would need a plan for. 
Preventive measures to be adopted by organizations 
While the pandemic is gradually slowing down with this lockdown, it is imperative to follow the same preventive measures once employees get back to work. If one person is found infective at the workplace, the whole office workforce would need to get quarantined and we will then come back to the same point from where we started. To prevent such complications from occurring at the workplace, few preventive measures need to be taken by the employers. 
Thermal Screening of employees/visitors coming to the office 
Getting a self-declaration from employees coming to the office that they do not have any symptoms of the coronavirus and nor did they come in contact with any COVID-positive patient.
Office sanitization
Proper instructions on the usage of lifts by employees
Providing masks and sanitizer at the workplace
Onsite doctor or nurse to be available 
SOP to be followed if someone shows symptoms of COVID which did not get diagnosed in the thermal screening
Awareness is of foremost importance in these trying times. The employer should immediately get them in touch with a doctor to determine whether it is COVID related or not, and also get them away from the workplace to prevent further spreading of the infection. If the test report comes positive, the employee should be quarantined and the whole workplace should be sanitized.  
Also, it is advisable that if any employee feels unwell, they should not report to work for some time. While employers take every possible step to keep the workplace safe and sanitized, employees are equally responsible for keeping themselves and others safe at the workplace. 
ekincare has chalked out comprehensive Back to Work plans for organizations of all sizes with an emphasis on awareness, prevention, and protection of employees and workplaces.