About 84% of the Indian workforce suffers from chronic stress for multiple reasons. The number is 89% for professionals of age 35-49 years. These numbers are growing every year. (Source: The Economic Times)
Symptoms of diabetes, obesity, high blood pressure, and thyroid-related problems are among the top Non-Communicable diseases (NCDs) experienced by the working population of India. Of all deaths occurring in the country, 61% are due to lifestyle or NCDs. However, these are preventable by simple changes in diet and lifestyle.
This is the reality of the modern-day workplace. For most of us, a 40-hour workweek feels inadequate and work keeps piling up. All this work-related stress leads us into an "autopilot mode" where we are seldom mindful of what our body is going through. Binging on unhealthy snacks is one of the several side effects of such a situation.
The annual fast food consumption in India is growing by 40% every year. These foods tend to be overprocessed and are cooked and fried at high temperatures. All this processing and cooking rips off most of the vitamins. In addition, high amounts of added sugars, sodium, saturated fat, and other additives are used to enhance the flavour and taste of these foods. This leaves the food with empty calories devoid of nutrition.
All these excess calories combined with physical inactivity are turning into extra kilos and leading to all sorts of problems for us. But, a lot of us already know all this. Then why are we still behind? How important is it to eat healthy at work? And how difficult is it? Time to find some answers to all these questions.   
Why healthy eating is important
Healthy eating is extremely important for our well-being whether it is at home or at work. Our food consumption impacts our mood, energy, stamina levels, cognitive thinking ability, and morale. An average person living in an urban area goes through 1-2 hours of commute every day. After staying for 9 hours at the office, he/she has to split his/her time, physical energy, and mental capacity between cooking, cleaning, managing household activities, and living a quality life with the family. Unfortunately, such a lifestyle costs us our health and well-being, which shouldn't be the case. 
"There is no work life, social life, or family life. It's all one life."
Healthy eating at the workplace can be our first step to helping ourselves. A well-balanced, nourishing meal, can keep our energy maintained throughout the day.  Healthy eating can also help us improve our performance and productivity at the workplace. All of these can increase overall leisure time while making our offices a lot more enjoyable.   
Maintaining a healthy diet at the office
A healthy diet doesn't have to be difficult. Given below are 6 tips you can follow to maintain a healthy diet at the office.
6 tips to Eat Healthy at the workplace
Understanding what is right for you - Each one of us is unique. We all are built differently and have different needs. It is important to understand where you are currently in order to plan a healthy diet that is right for you. Start with a total body checkup. Have a conversation with your doctor or nutritionist or health practitioner and understand your health needs. Consider your age, lifestyle, and other factors, before you come up with your health goals. For example, it might not be practical for a 40-year-old male working in a software setting to aim for 6-pack abs. Rather, building stamina to be able to cook at home, effectively think at work, and spend time with family, while maintaining adequate physical fitness could be ideal. So be realistic, pay attention to all aspects of life, and think in terms of functional fitness.   
Plan and prep your meals ahead of time - Planning and meal prepping are the two most important steps when it comes to maintaining a healthy diet. For most of us, workweeks are so hectic that all the resolutions we make on Sunday fall off the wagon by mid-week. Before we know it, we find ourselves drained of energy, too lazy to prep meals, and ordering food delivery. We need to fight this problem in two simple steps:
i) Plan & meal prep for the entire week in one go - There are many simple and useful options for meal prep. Breakfast smoothies are an easy option, where the ingredients can be set aside in batches. Parfait, yoghurt, granola, or salads can be made ahead of time and refrigerated. 
ii) Keep most of the recipes simple - Usually cooking is the last thing we would want to do after a long busy day. That doesn't have to be the case. Plan most of your recipes with simple, minimal ingredients. If not, cook in large batches and refrigerate the food, which you can simply reheat and eat. Even though this is not the most ideal option, it can save you a great deal of trouble when trying to stay healthy.  
As someone wisely said, "Well-planned is half the job done."
Eat well-balanced meals - The importance of a well-balanced meal cannot be overstated, especially if you want to experience the optimal quality of life. For instance, eating sugary cereals or cornflakes as a stand-alone meal provides you with high carb content. This leads to a sugar rush and your body will seek similar sugar spikes throughout the day. This can lead to cravings and an erratic mood. Similarly, a single meal high in fats can lead to high blood pressure and impaired cognitive function, making you lethargic. The USDA (United States Department of Agriculture) recommends a balanced meal to contain carbohydrates, proteins, and fats in the ranges of 45-65%, 10-35%, and 20-35% respectively. You can use any of the health apps to plan balanced meals yourself or you can seek the help of a dietician or a nutritionist.
Stay Hydrated - 55-60% of our bodies are made up of water. Water is needed for mucus, blood, plasma, and other body fluids. Water is essential to regulate body temperature and carry nutrients to cells. Water is needed to lubricate body joints and flush out toxins. All vital organs need an adequate supply of water for optimal functioning. 
i) The best way to consume water is to drink it whenever you feel thirsty
ii) Drink water before your meals, especially when you feel that extra hunger 
iii) Also consume water when you feel food cravings (especially during sugar cravings)
iv) Consume soups, fruits, and vegetables frequently. This is another yummy and easy way to stay hydrated.
Caution: Avoid soft drinks and caffeinated drinks. Soft drinks contain 10-12 grams of sugar in a 100 ml drink, which can be counterproductive for a healthy eater. Similarly, caffeine can leave you drowsy after a certain number of hours and can have other side effects when consumed in excess.
Choose healthy snacks - Despite all our efforts, externalities such as odd work timings, emergencies, and other factors can make it difficult to maintain a healthy diet. Healthy snacking can come to our rescue during such times. Stock your desk with these healthy snack alternatives to maintain a habit of healthy eating
Fruits and vegetables - Fruits and vegetables are excellent sources of vitamins, minerals, and fibre. They also provide us with just adequate carbs to maintain our energy levels. Salads are a great way to practice this. To make things easier, try fruits and vegetables that don't need peeling or cutting. 
Soups - Soups are one of the best ways to stay light and hydrated as well. Soups can be low in calories and carry a lot of nutrition when made right. Every now and then, swap your regular meal with a generous serving of your favourite soup.
High-protein, high-fibre snacks - Snacks made with plant protein sources are generally high in fibre and complex carbs. Examples are Roasted Chickpeas, Roasted mung beans (moong dal), Boiled soy chunks, Sprouted Lentils, boiled or fried beans, etc. These foods keep you satiated for longer periods due to their protein and fibre content.

Benefits of protein and fibre in the diet
Nuts, Seeds, and Dry fruits - Nuts and Seeds are abundant in Polyunsaturated fats (Omega-3 and Omega-6 fatty acids) and natural fibre. Peanuts, almonds, walnuts, cashews, sunflower seeds, pumpkin seeds, chia seeds, and hemp seeds are some examples.
Caution: Nuts and seeds are high in calories. While they are highly nutritious, consuming them in moderation can keep calories in check.
"To err is human" - Alexander Pope
Following a mindfulness approach - Now that we have planned a balanced diet for ourselves, do we have to stop eating out? Do we have to stop indulging at office parties, and social gatherings? Not necessarily. This is where a mindful approach can save you. Following a mindful eating approach
i) Can help you distinguish between cravings and hunger.
ii) Can enhance your sensory experience of eating. 
iii) Can help you maintain weight.
iv) Can help you control yourself despite confusing environmental cues (e.g. the tempting aroma of cakes or fried food).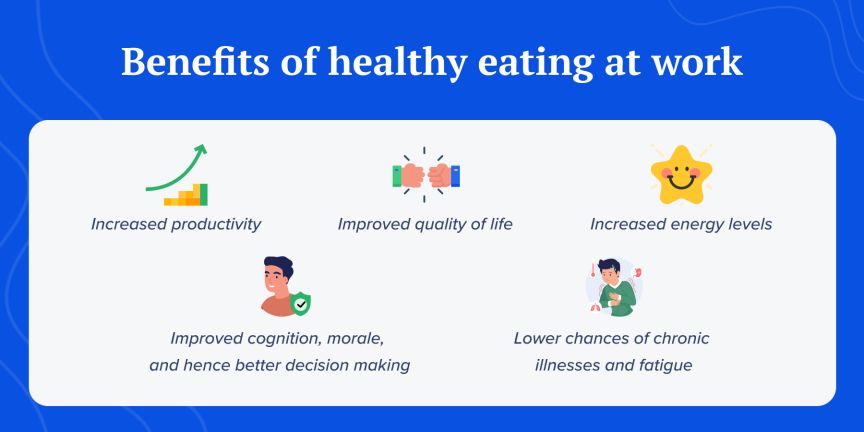 Benefits of healthy eating at work
In closing
Adopting a lifestyle of healthy eating at the office can be extremely beneficial in this day and age. This can also help us look forward to our time at the workplace.
To start eating healthy, plan ahead and plan well. Start from where you are right now. Understand and clearly list your health goals. Put adequate time into simplifying meal prepping. Eat well-balanced meals, snack healthy, and stay hydrated. Maintain a mindful approach as you do all these. The rewards of eating healthy at the workplace will be rich, and lasting.
Schedule a demo to learn how your organisation can get the best employee health and well-being experience with ekincare's commitment to quality.