Due to the ongoing threat of COVID-19, life in the fast lane has faced a severe slowdown, with people across the world stuck at home and unable to socialize as much as they used to. In addition to the social implications, exercise and fitness have also been relegated to the corner of everyone's minds amid the pandemic.
However, physical fitness is an important aspect of keeping healthy at the best of times, and more so when a health crisis is sweeping the world.
Why should you stay active?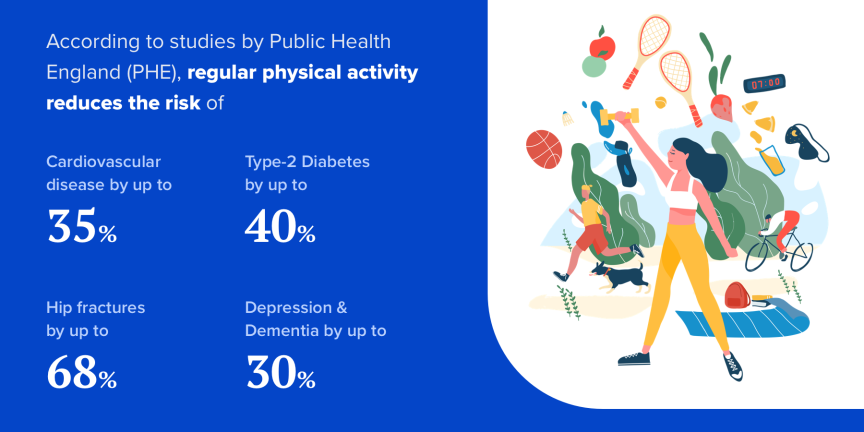 The benefits of regular physical activity
Considering the plethora of health benefits, it is apparent that health and fitness play both a short term and long term role in the overall longevity and quality of life for people of all ages.
Tackling the 'how' of fitness
The benefits of regular exercise are numerous, and have been heralded for a long time. So, now that we have the "why" to exercise, here are some ideas on "how" to go about it:
At-home workouts
The easiest way to start your fitness journey, or to continue it when gyms do not allow access like they used to, is to start at home.
Doing chores - Helping out with the chores around the house can help you stay fit as well. Sweeping the floor, cleaning shelves, and even cleaning dishes are good ways to start improving your level of activity, while also keeping your home in working order. Keep in mind that this is true only when you do these activities for at least 10 minutes at a time, and work hard enough to raise your heart rate.
Using online resources - You can find a number of reputable instructional exercise videos on YouTube. Take your current level of fitness into account and follow a plan that suits your needs.
Bodyweight training - Starting with the basics, using your own body weight by doing push-ups, squats and pull-ups is a good way to get fitter with no equipment.
Walking & running - One of the simplest ways to exercise is to run or walk for at least 15 minutes every day. Coupling this with your favourite music or podcasts and audiobooks can help you stay motivated or learn something new, while getting some exercise at the same time.
Dancing - You don't need to be a professional dancer to enjoy the simpler joys of dancing to your favourite music. Putting on some energetic songs and dancing while maintaining a higher heart rate is a fun way to stay fit at home.
Say no to boring exercises - There is no one-size fits all fitness program. The important part is to find something that works for you and to find ways to make it more fun and enjoyable consistently. This stops you from abandoning a fitness regimen due to boredom or lack of enjoyment.
How much exercise is necessary?
People of different ages will need different levels of exercise to stay healthy. Our bodies change over the course of our lives, and so will the amount of exercise that is required. As a few general guidelines, here are some of the recommended levels of exercises, based on studies by the U.S. Department of Health and Human Services:
Younger children - Between the ages of 3-5 years, children should ideally be active throughout the day, as this helps with their overall physical & mental growth and development.
Children and teenagers - Between the ages of 6-17 years, children and teens require moderate and high levels of daily exercise.
Young adults - Anywhere between 120 minutes of moderate physical activity to 90 minutes of intense exercise per week is recommended for adults. Moderate exercise includes speed-walking, while intense workouts call for running or weight lifting.
Older adults - As we grow older, maintaining the flexibility and balance of our bodies becomes more important. Yoga can help with both, and is less strenuous for those who are just starting out on their fitness journey. For older adults who are used to exercising, reducing the level of exercise to match their current abilities is also a good way to maintain fitness.
Fitness as a way of life
While it is important to focus on your fitness during the current pandemic, it cannot be neglected once life goes back to normal either. Maintaining an adequate level of fitness is important for multiple health reasons, and as mentioned above, helps with improving the longevity and quality of life for everyone as we grow older. Thus, fitness must become a way of life for everyone to live a happier and healthier life. Having corporate wellness programs that incorporate easy access to fitness solutions can help as well.