Veganism is the new buzz in urban India. We all have a vegan friend. Proactively checking vegan places, avoiding paneer in the palak paneer, choosing not to go out because of the food triggers, treating chickens as pets, and doing all sorts of other interesting things. Why are they working so hard to stay vegan? What motivates them? Let's get into this hot debate and understand the importance of veganism and, most importantly, what's in it for you.
What is Veganism?
Veganism*** is a philosophy for humans to live a plant-dependent, sustainable lifestyle. This includes food, clothing, footwear, accessories, and furniture, among other things that are essential for your modern-day lifestyle (***Some people extend veganism to building materials and technologies as well, which is an entirely different discussion altogether).While veganism finds its roots in Jain and Buddhist cultures originating in the Indian subcontinent, the word 'Vegan' was coined by Donald Watson to differentiate vegans from vegetarians.
What's in it for you?
High nutrition: Plants contain a lot of fibre, water, vitamins (A, C, B-complex, and E) and minerals (Iron, Potassium, Calcium, Phosphorus, and many more). So the calorie vs nutrient ratios are significantly higher compared to the meat or vegetarian food sources.
Reduces risk for lifestyle diseases: Frequently consuming plant-based foods can lower the risk of diabetes and heart conditions. Plant foods are generally low fat (unprocessed plant foods have zero cholesterol and lesser quantities of low-density lipids), low calorie and low in glycemic index. This helps us maintain healthy blood sugar levels and avoid a plethora of modern-day lifestyle health conditions.
Ethical and environmental benefits: Eating a plant-based diet is one of the easy ways to save our planet and be a "good human being". Nearly half of the current agricultural produce is used as animal fodder. Factory farming causes many problems, such as cruelty towards animals (premature death and bad breeding conditions), water and air pollution, and hormone-laden foods, to name a few.
How can I adopt this?
Let's look at 6 easy-to-cook, healthy vegan foods that can keep you sharp and healthy at work.
Ramen/Noodles:
Noodles are a staple in many Southeast Asian and European countries. Ramen takes around 10 minutes to cook and could be pretty healthy if you choose to make it so. Wheat, buckwheat, and chickpea noodles are popular healthy options, to name a few. Either buy them or batch-prep them at home.
Here are a couple of ideas to make your ramen healthy and exciting:
Batch prep vegetable broth at home and cook your noodles in broth instead of water.Pair ramen with sauteed veggies, especially broccoli, cauliflower or cabbage. Pan-frying these veggies in a bit of oil enhances the flavours of these veggies.
Pro-tip: Ramen is best enjoyed during the winters.
Pasta:
Pasta is at its best when you make noodles from scratch at home. Batch-making pasta noodles in your favourite shapes is a brilliant idea. Here is a video of batch-making pasta at home. You can also pick and choose shapes and sizes of pasta depending on how comfortably you can eat it at work. This way, food never gets boring, and there is no better way to beat street food cravings.
You can also make your marinara sauce in batches or freshly whip up some white sauce for your pasta. Many other sauce variations are available on the internet. This can also become a great party dish with very little effort. Get creative!
Pro-tip: Slightly saute your veggies and cook them in pasta sauce for better flavour.
Granola/Muesli:
Granola and Muesli are close cousins from different continents. Granola is usually baked and sweetened with maple syrup or honey. In Muesli, ingredients are usually uncooked, and dried fruits are used as sweeteners. What's common between them? Both are fantastic office snacks. Both are high-nutrition, high-energy foods that are especially useful during intense brainstorming sessions. Also, both are extremely easy to carry.
Have it with oat or nut milk. Or eat it as a dry snack. Or have it with plant-based yoghurt!
Caution: Both are high-energy foods—snack on them in moderation.
Quinoa:
Quinoa is an excellent alternative to rice or roti for several reasons:
For a grain, quinoa has a surprisingly good distribution of protein, fibre, carbs, and micronutrients.Quinoa doesn't take long to cook.Quinoa has a low glycemic index, which means your energy can be sustained throughout the workday (and the food is diabetic-friendly).
Start with simple dishes like quinoa upma, or eat quinoa with cooked curries for a couple of days. Or jump right away to fancy dishes like quinoa pulao.
Millets:
Millets are better than quinoa in terms of protein, carbs, fibre, and micronutrient distribution.
The millet industry is innovating rapidly and producing foods like millet idli, millet dosa, and millet upma, to name a few. Millets are another low glycemic index food and impart great flavours to rice and vegetables. These exact traits make it ideal for a workplace meal.
Just like the millet industry, get innovative with your millet dishes. You really can't go wrong!
Fun fact: The global millets market is expected to reach 14.14 billion USD by 2028, and the Indian government is making bold steps to innovate and make millets an integral part of our staples.
Sandwiches/Wraps:
Both sandwiches and wraps are perfect meals on the go.
Here are some merits of sandwiches and wraps:
Easy to pack and carry
Compact and customisable
Can be made healthy
They taste awesome
Do the following with your sandwiches/wraps to make them healthy and fun:
Add veggies (fried (or) raw (or) both)
Use spreads like hummus and vegan mayo (for great flavour)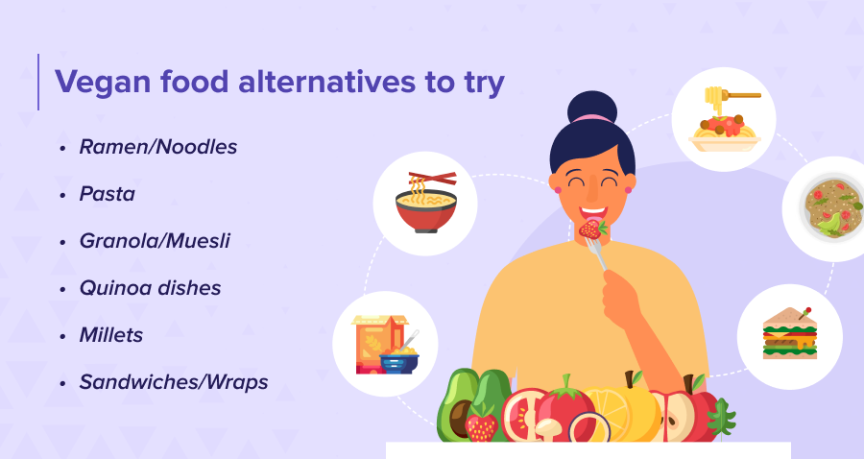 Other popular vegan foods for the workplace
Fruits:
Fruits come in all colours, shapes, and flavours. Try to eat a variety of them to stay hydrated and avoid food cravings at the office. Fruits are fibre-rich and can also help with symptoms like constipation caused by long hours in a seated posture.
Mixed nuts & nut butters:
If we have to come up with a term for all the nuts, it's "brain food". Nuts are high-energy foods, rich in omega-3 fatty acids, fibre, and antioxidants. Pair your nut butter with wheat crackers for an interesting texture and mouth feel.
Boiled legumes:
Groundnuts, mung beans, white beans, and chickpeas are popular in the boiled snacks category. You can also make yummy curries with them.
Caution: Soak your legumes to avoid gastrointestinal problems.
Vegetables:
Eat your veggies! Even though we eat veggies every day, we often need to consume more of them and in the right form. The Center for Disease Control in the U.S. reports that only 1 in 10 adults consumes adequate fruits or veggies required for good health. Try to consume 2 to 3 cups of veggies every day and try not to overcook them to retain the nutrition better. If your sweet potatoes and sweet corn are starting to bore you, pair them with dips like salsa or vegan mayo to keep them interesting.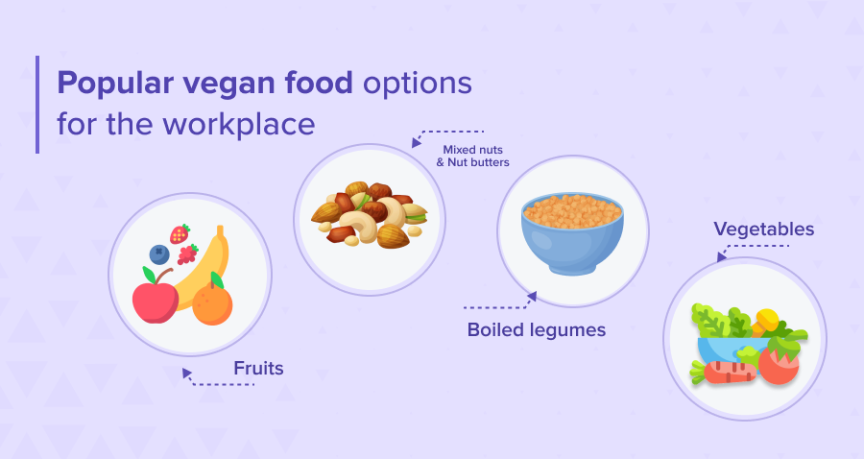 Schedule a demo to learn how your organisation can get the best employee health and well-being experience with ekincare's commitment to quality.