Stress is one common issue faced by almost every employee.
Nearly half of the employees in India suffer from some kind of stress, according to the findings of the latest survey by Optum.
Another survey, conducted by 1to1help.net, showed that the proportion of workers at high risk of suicide due to unmanaged stress has grown to 8% of all counseling cases in 2018 from 2–4% two years ago.
"Workplaces that promote mental health and support people with mental disorders are more likely to reduce absenteeism, increased productivity, and economic gains" WHO said.
Organizations are now working towards creating a policy for stress management and work-life balance to help their employees.
ekincare has introduced a service to help all the corporate employees deal with stress and mental wellbeing in partnership with SilverOak.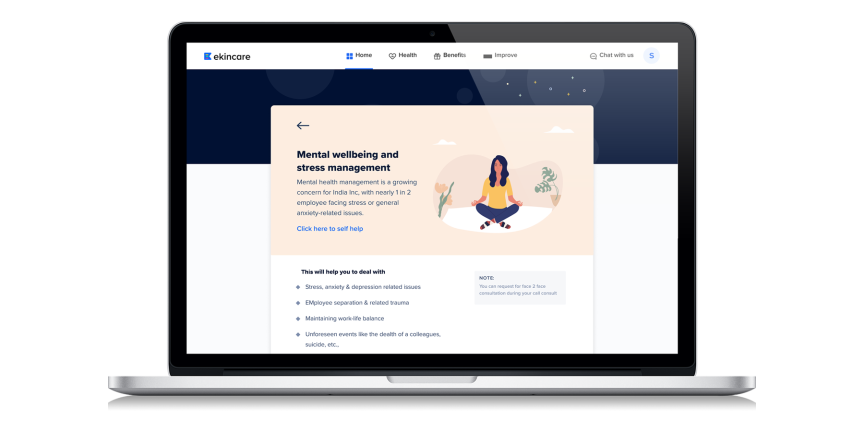 Mental wellbeing platform of ekincare
The user now has access to experienced counselors over call and chat on the ekincare platform. While the counselors are available 24/7, users can also schedule a future consult with an expert at any time and schedule a callback from 8:00 AM to 8:00 PM for any day of the week.
How to access the services?
A user has to login to the ekincare platform to use any of the services. Mental wellbeing is part of the benefits provided to a corporate and can be accessed from the benefits section of the platform.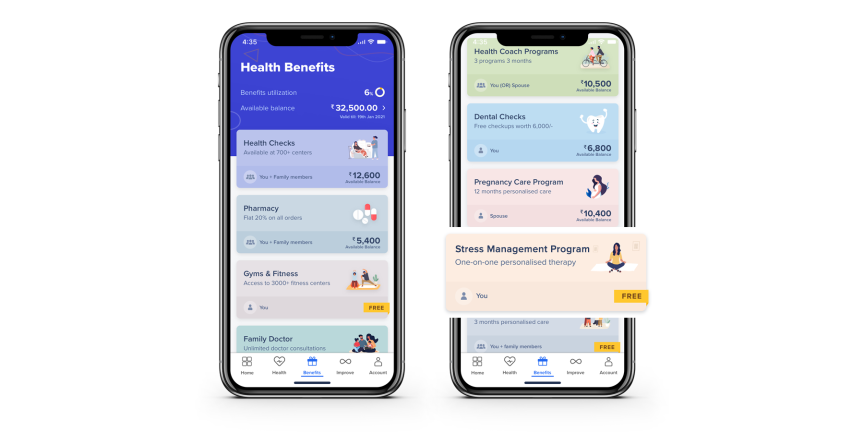 Health benefit offered by ekincare
The user can access the service either via immediate or a scheduled phone call or chat after selecting the program.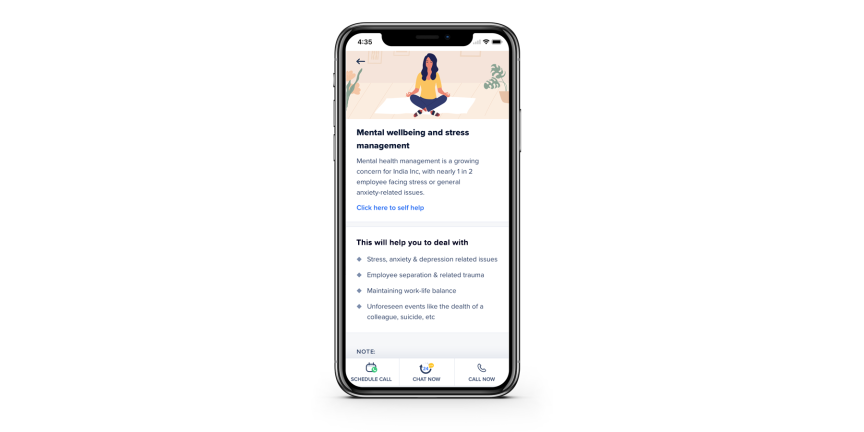 Service description of Mental wellness
ekincare offers Schedule Call, Chat Now, and Call Now service to get help from an expert counselor.
Schedule call back
A customer can request for call-back from the counselor through the schedule call option for any day in the next 5 days between 8:00 AM to 8:00 PM.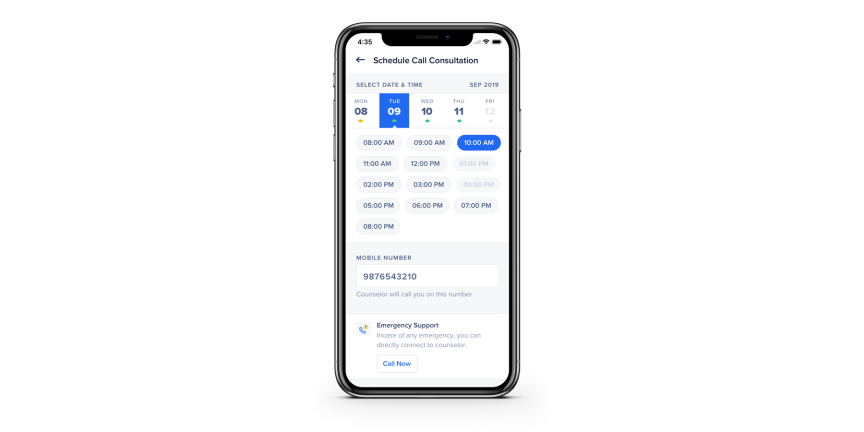 Scheduler for future callback
To schedule a call back, it is mandatory to provide the mobile number to which the counselor will call at the scheduled time. If instant/emergency support is needed, then the user can directly connect with the counselor.
The user can also re-schedule or cancel the appointment an hour before the scheduled time if needed.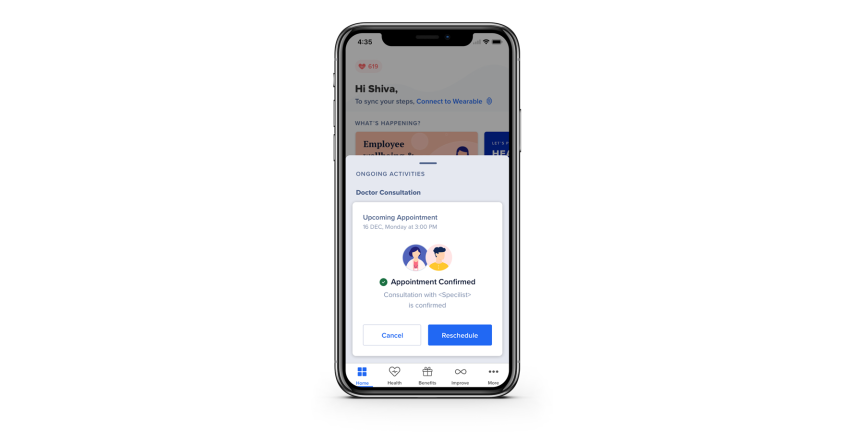 Reschedule from Home screen
Call Now
Users can connect over the call directly with an expert 24/7 throughout the year.
Chat Now
Our counselors are available for text chat as well. Users can connect with them 24/7 and 365 days a year. Typically our expert can be connected in less than 5 minutes.
Self Help Tools
ekincare also offers a rich library of self-help tools that contain articles, videos, meditation music, motivational content, etc.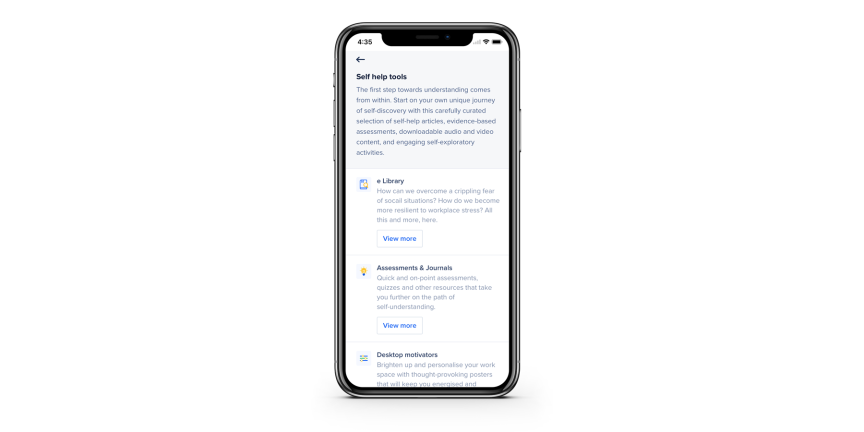 Self-help tools
Face 2 Face Consult
Users can request for a face 2 face consultation during chat or call for which they will have to share their location with expert to check the nearest center availability for face to face consultation. Users will have to visit the center at the allotted time and avail the service. F2F is also a part of the benefit and there are no extra or hidden charges for the services.
Who all can access the services?
It's a company-sponsored service and all the employees of a corporate with this service enabled can access all of these.
A corporate can opt for this service whenever they want. To enable the service, contact the customer success manager or write to us at wellness@ekincare.com.
Which platform this service is available at?
Stress management is available on all platforms - Android, iOS, web, and PWA.
Its time now when organizations need to help their employees with not just physical wellbeing but emotional wellbeing too.
For any query or issue, you can contact customerexecutive@ekincare.com or write to us at product@ekincare.com for any suggestion or request.