COVID-19 has forced organizations to re-evaluate their workplace wellness policies keeping employees' health & safety at the forefront. As per our recent survey on Employee Benefits, 8 in 10 organizations said they would re-evaluate their employee wellness policies post-COVID.
In this webinar, our speakers Thrilok Abhishek - AVP, ekincare, and Sharad Verma - VP & CHRO, Iris Software Inc. focused on helping organizations to revamp their employee well-being strategies by filling in the gaps. 
Implications of COVID-19 on business and employee relations
In this perspective, Mr. Sharad rightly said that this is a completely unprecedented situation where nobody saw it coming in this way. He also stated that although he has been part of some workshops where they simulated what would happen if there was a global pandemic situation and what kind of steps they would take in different stages of seriousness, they were more theoretical as no one ever thought that we would
actually face something like this ever. Also, in the last five months, the emotions themselves have gone through different cycles, in the beginning, there was anxiety and a lack of information, but now people wanted to know what was happening.
From a business perspective, it has meant to continuously keep in touch with your employees because everybody is working remotely and we have to be a caring employer.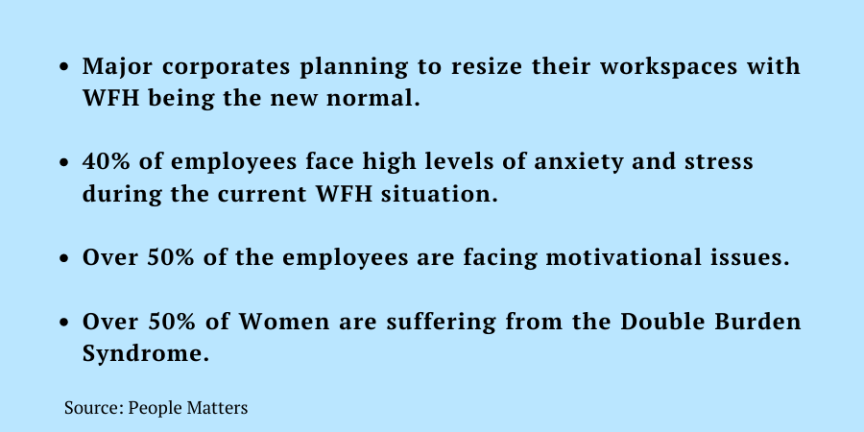 While agreeing with the above numbers, Mr Sharad also said that employees have indeed faced motivational issues, stress at work and their personal lives have completely got intermingled which has resulted in employee well-being being floated to the top. 
Mental health issues in India
According to the Assocham report on mental wellbeing, 1 in 2 employees suffer from general anxiety or depression and 20% of India's population will suffer from some form of mental concern by 2020. 
In this regard, Mr Sharad said that it is like mature psychology that one does not know what is a bad mood, what is a temperament, what is depression or when does one seek medical help or do they need to talk to somebody?
So, it is important that employers recognize these issues and create a safe environment where employees can talk to anybody about their problems. 
Organizational strategies to fight COVID-19
There is no denying the fact that the whole healthcare aspect of the employee requires disruption in the way that it requires innovation, it requires new thought processes, and new models because traditionally the healthcare system is highly reactive. So from an organizational state, Mr Sharad believes that they have been more check-in-the-box, like do they have an insurance agency, what is the insurance cover going to be and then every year negotiating with the companies on how can the premiums come down because it's becoming expensive for us. All these things impact productivity and therefore return on investment. Therefore, there is a linkage between employee health and the overall performance of the company and that's where the new business models come into the picture which are more holistic and more proactive. 
Essential components of a pandemic-proof health benefits strategy
Employees need to be healthy to feel good. Only then will they perform their best and also encourage others around them. By promoting good health among employees, employers can prevent illness and workplace accidents. It also reduces fatigue and physical and mental burnout.
Must-have components
24x7 instant doctor access
Medicine Delivery 
EAP services (24x7 psychologist access)
COVID testing (RT-PCR, Antibody)
Home isolation programs
Good to have components
Extend employee benefits to family members
Annual Health Checks (home sampling)
On-site Medical Rooms
Online live fitness sessions
Health Talks by experts on relevant topics
Health Coach programs
Nutrition services
Workshops for managers and leadership
Stress Management programs
Conclusion
Given the current challenges in work and home life that employees are facing during this unique time, it is more important than ever to prioritize employees' health and wellbeing. Whether employers are beginning to start from scratch or make changes to an existing wellness program, keeping these few takeaways in mind can maximize their value on investment. So, it is now the best time to connect with employees by designing a customized digital wellness program that is not bound to the walls of the office.