We have often discerned that people of the same age groups pay the same health insurance premiums irrespective of some having better health parameters and proactive healthy habits than the rest. That's because the two have been the same in the eyes of insurance companies till now and premiums on policies were charged based on age and in some cases geographies too. However, things are beginning to change and we may soon get to monetize our health premiums with people of the same age group not having to pay the same premium. 
For quite some time, IRDA has been laying a strong emphasis on customer wellness and encouraging health insurers to create offerings that cater to the preventive healthcare needs of their customers. Following this, the Insurance Regulatory and Development Authority of India (IRDAI) has now allowed the bundling of wellness products in the sandbox that will cater to the specific needs of the customers. This has been done primarily to help the regulator measure real-life implications of the commercial use of new-age technologies before giving them the approval for commercial launch. It is indeed going to help both the insurers and technology companies to work collaboratively and experiment with their new products on a live audience. 
ekincare for wellness-focused insurance products
"In India, the concept of personalized health insurance premiums basis an individuals' health conditions is extremely nascent. Over the last few years, there has been a significant increase in the uptake of health insurance premiums among customers under the age of 35 years. However, it still continues to be a discretionary purchase among the younger population as they tend to undermine health risks and foresee the limited need for hospitalization. Hence, offering such wellness solutions that can maintain and track their health is one effective way to engage and encourage them towards buying health insurance.
At ekincare, regular assessment of an individual's health provides valuable insights on their current and potential medical issues, the risk for chronic preventable diseases such as diabetes, heart disease, and hypertension, and helps identify strategies for improved health and well-being. These assessments provide important information that helps to shape the direction of their internal health and corporate well-being initiatives, which in turn impact the bottom line by selecting better and more appropriate health premiums.
Benefits of partnering with ekincare
ekincare's "flexi care" policy engine that can be customized 30,000+ ways facilitate health interventions (part of the policy).
ekincare's "care link" provides cashless OPD facilities across 10,000+ healthcare service providers across 150+ cities.
ekincare's "data sense" tracks and validates the utilization, health statutes to auto adjudicate OPD claims, gives reward points, and prevents frauds.
ekincare's AI-based "care ngage" personalizes a policy holder's health journey and nudges them towards positive health. 
ekincare and Bharti AXA launch "Bharti AXA Wellness Cuppa"
Bharati AXA General Insurance, a leading non-life insurer, has announced the launch of its fitness app - "Bharti AXA Wellness Cuppa'' for its esteemed customers in partnership with ekincare. This wellness portal and app will help customers keep track of their daily fitness levels, manage dependents, provide personalized content, and have active challenges to participate in. It will also provide them with their health scores and rewarding points. Customers can then collect these points and redeem them for a reduced insurance premium at the end of the year.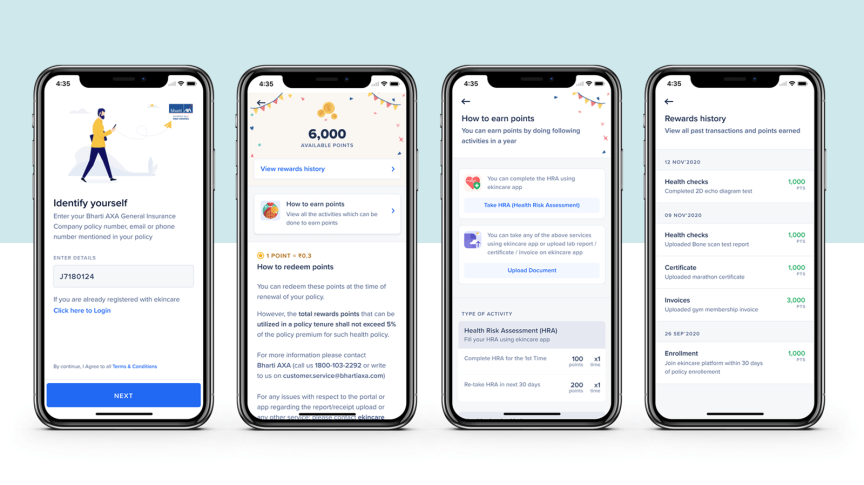 Bharti AXA Wellness Cuppa - Login & Rewards Screen
By virtue of this collaboration, Bharti AXA's customers can download the newly launched app (iOS/Android) through which the customers can input all key metrics pertaining to their health. Through the wellness portal and app, the policyholders can avail the entire gamut of wellness features and services in one place. Apart from health rewards, some of the features also include video/teleconsultation, pharmacy, and diagnostic services, online chat with doctors, doctor's appointment, doctor on call, and medical second opinion. All these services are handled digitally by the ekincare platform.
"We are pleased to partner with ekincare to bring a wide variety of wellness benefits to our customers. This is another effort to positively engage with our customers and bring useful services to them. We are confident that many of our customers will start incorporating fitness activities into their daily routines, will start staying fitter, and get rewarded for their healthy lifestyle," said Mr. Saurav Jaiswal, Chief Distribution Officer - Retail, Bharti AXA General Insurance.