COVID-19 (Coronavirus) Antibody (Serology) Test is a blood test. It is designed to detect antibodies (immunoglobulins, IgG, and IgM) against the coronavirus that causes the disease called COVID-19. Antibodies are proteins produced by the immune system in response to an infection and are specific to that particular infection. They are found in the liquid part of blood specimens, which is called serum or plasma, depending on the presence of clotting factors. 
Helping employees fight COVID-19 with IgG sero-testing
As part of our outreach to help organizations tackle the COVID spread, ekincare has now expanded the protocol to include IgG sero-testing for antibodies against COVID-19 as well. 
How is sero-testing different from the normal RT-PCR COVID test?
RT-PCR is a diagnostic test that is required to identify someone infected with COVID-19. Sero-testing for antibodies is a sero-surveillance tool to identify individuals who have recovered from COVID-19.
Is it mandatory?
Though it is not mandatory to test employees, as per the ICMR guidelines, it is advisable that employees at organizations (both public and private) should get IgG testing done to know the prevalence of antibodies, even if they are asymptomatic.
Having an antibody test is helpful if: 
You live in or have recently travelled to/from a place where transmission of COVID-19 is known to occur.
You have been in close contact with an individual suspected of or confirmed to have COVID-19.
You have recovered from COVID-19.
COVID IgG Testing
COVID antibody testing is of 2 types that are being provided by labs:
Total Antibody Test (IgG + IgM)
This test helps in identifying the presence of any antibodies to COVID 19.
Kit Used – Roche
IgG Specific Antibody Test
This is recommended by ICMR as it helps define recovery and actual immunity.
Kit Used – Abbott/Trivitron or any other ICMR-approved kit
Here is the graphical explanation of IgG: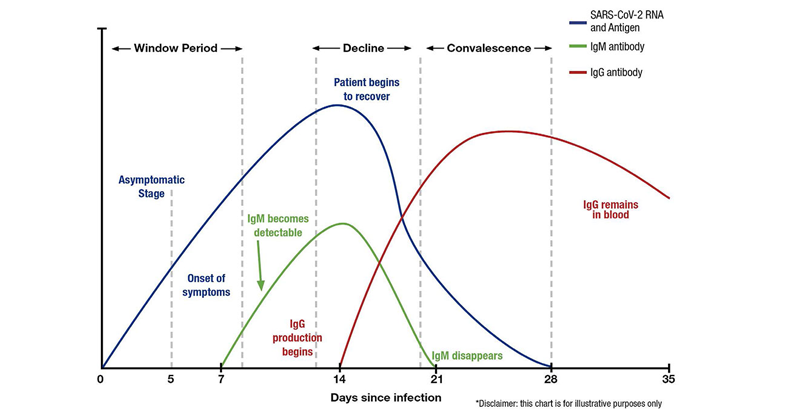 Antibody test for IgG
This test detects IgG antibodies that develop in most patients after 14 days from the start of the infection. According to current research and parallels from SARS, igG antibodies remain in the blood after an infection has passed. These antibodies indicate that you may have had COVID-19 in the recent past and have developed antibodies that may protect you from future infections. It is unknown at this point how much protection antibodies might provide against reinfection and for how long.
Total antibody
This test detects either IgM or IgG antibodies (essentially IgM + IgG). A positive total antibody test indicates that you may have been infected and that your immune system has started responding to the virus.  This is less specific than IgG antibodies and someone who got the results 'reactive' may still be infected and recommended to undergo home quarantine. 
You may test positive for antibodies even if you have never had symptoms of COVID-19. This can happen if you had an infection without symptoms, which is called an asymptomatic infection.
Results
COVID-19 antibody test results could be:
Positive: A positive test means you have COVID-19 antibodies in your blood, which indicates past infection with the virus. It's possible to have a positive test result even if you never had any symptoms of COVID-19. You are requested to consult a doctor for the next steps. Prescribing doctors may recommend contact tracing and PCR tests for immediate contacts.
Negative: A negative test means that you have no COVID-19 antibodies, so you probably were not infected with the COVID-19 virus in the past. However, if you are symptomatic, you are requested to consult a doctor immediately.
How does it help organisations?
Organizations can make better decisions about their workforce with the help of the sero-survey. A few possible scenarios can be as follows:
Be aware of the Asymptomatic Recovered Cases (to mitigate future risk) 
Better Informed Decision Making for High-Risk Responsibilities (eg: Front Office Staff at Banks, Healthcare professionals, retail operations, etc)
People who have had COVID-19 or tested positive for antibodies should not assume they're protected from getting a COVID-19 infection again until infectious disease experts learn more about these antibodies. You are requested to consult a doctor as soon as you have the results for clinical correlation.
Until more is known, even if your test results show that you have COVID-19 antibodies, continue to take precautions — including wearing a face mask in public, frequently washing your hands, and practising social distancing — to avoid the risk of spreading the virus.