A lot of employee wellness programs are often limited by a lack of data to guide their design and measure outcomes. As a result, organizations end up offering health benefits that eventually lack utilization.
So, before finalizing on what health benefits have to be offered to the employees, a detailed analysis of the existing and potential health risks of the population has to be determined. HRA and health checks are the keys to determining this.
Here are the three essential steps for a successful wellness program:
Step 1: Evaluation of current and potential health risks of the employees
The health risk assessment comprises of questions related to Gender, Age, BMI, hypertension treatment, systolic blood pressure, smoking & Alcohol status.
Post the HRA, the data has to be consolidated and provided in the form of a dashboard for the HR function to identify the problems and formulate a plan of action. The sample dashboards highlight employees' chronic conditions. With this data, HR can plan wellness initiatives to help employees get into a healthy lifestyle.
Step 2: Determine a plan of action with the help of a Healthcare Consultant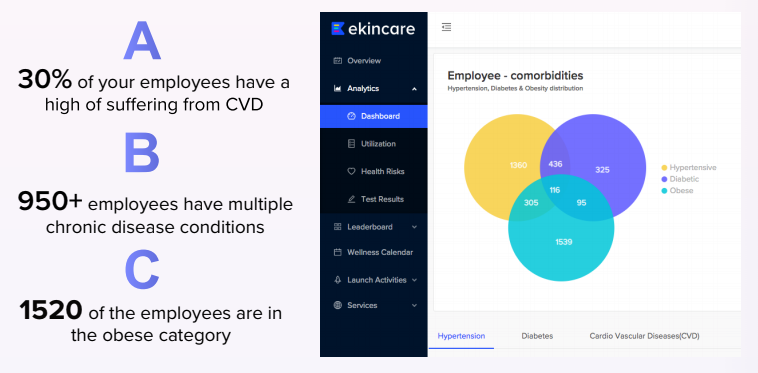 The dashboard shown here gives you a detailed analysis of employee health which can be further segmented into location, department etc. This data can be shown to a health expert and a comprehensive plan can be created for the year to improve the health of the employees.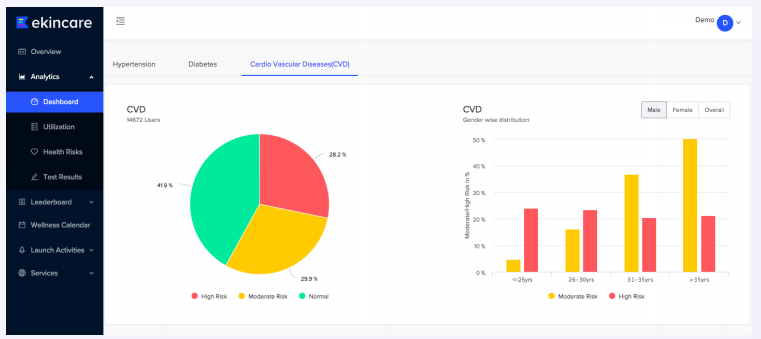 Step 3: Measure the effectiveness of your healthcare initiatives
Make a Health coach available to employees with a chronic disease condition.

Plan and track stepathon contests, which are proven to be good in making employees adopt a healthier lifestyle.

Create a wellness calendar for the year which includes initiatives such as health talks, Zumba sessions, laughter therapy etc. as shown below.
Utilization and employee engagement
Utilization is one of the key metrics for the HR function with regard to any healthcare initiative taken. At ekincare, we provide a dashboard to closely track the utilization of the health benefits that your company offers.
Furthermore, you have the option to slice and dice the data to drill down to location, department, and gender-wise breakup on the utilization.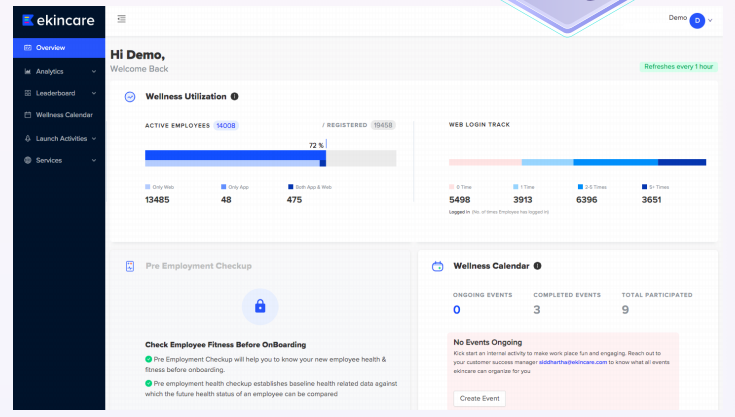 Steps that can be taken:
Monitor the health benefits utilization in real-time.

Encourage employees to take advantage of the services offered by tailored communication.
Have complete control over the Health Challenges initiated.
Stepathon is a proven form of challenge to help improve engagement among employees and get them to walk more on a day-to-day basis. One of the major challenges of conducting a stepathon is to keep track of people participating and incentivizing them.
At ekincare, the platform enables you to start, track and complete stepathons for your company all from a single place. The users can sync their steps irrespective of the locations that they are in and be a part of the stepathons.
Track, Measure and Improve
ekincare's platform provides a comprehensive view of health benefits utilization rates, health checks, app usage, challenges undertaken, etc. This enables the HR function to seamlessly prepare reports to measure the outcomes and improve upon it on a day-to-day basis.