The COVID-19 outbreak certainly proves that unprecedented times require unprecedented actions. This pandemic has robbed the world of its normalcy, freedom, and peace of mind. 
While engaging the workforce at every stage, right from onboarding to maturity was equally critical during the normal days, it has become even more crucial now to keep the workforce happy and productive. As the current turmoil is bound to make employees feel stressed and isolated, Gamification, with its fun element, is a great stress buster. It helps in calming down the nerves and can act as an effective remedy in these testing times. Gamification is not only a fun way to drive engagement, but it also helps create a culture of openness and learning!  
Employee engagement is not just a task to be done, it is a key people metric that must be monitored periodically, to know where the organization stands in terms of its people. After all, employees are the most important resources that can make all the difference between organizational success and failure. Since today's employees are hooked on technology—be it the latest application or an entertaining game, why not leverage this "fun element" and grab the attention of the employees?
Gamification for engagement helps achieves both employee goals (fun, team interaction and learning), and organizational goals (engagement, the focus of the employee, education, etc.).
Gamification: A great motivator
Motivation holds different meanings for different individuals. Some employees may be motivated by the feeling of accomplishment and achievement, others by being a part of a group, some are motivated by exhibiting their competencies, and yet some by power. There is no one motivator that can work its magic on all employees. It's, in fact, a combination of these and other motivators that collectively drives people.
In the world of gamification, collaborating with other players and working as a team to complete "missions" can give some employees the feeling of being a part of a team. While badges can motivate those employees who desire power, competitive employees can be motivated by leaderboards and some would be motivated by leveling up their competencies.
Having a purpose to aim for and earning rewards for completing goals is a great way of motivating your employees. 
Improves performance management
Performance appraisals often go wrong when employees feel that they are not appreciated for their good work. At the same time, gamification recognizes their efforts by rewards and recognition in the form of badges, points, or leaderboard achievements. 
Since a typical corporate set up requires three significant steps for managing performance measurement of the employees – goal setting, performance tracking, and feedback, with gamification, employees can set goals for their employees and judge their performance objectively.
Promotes better time management
It has been observed that when employees are motivated and engaged, they are more efficient, resulting in increased customer satisfaction and less customer inquiry, which in turn saves time.
Also, gamification increases the efficiency of employees by helping them stay focused, and hence, consume less time to complete their work.
Elevates learning of employees
Designing gamified solutions that address the learning preferences of your employees ensures that they retain knowledge and apply their learnings. As a result, their performance improves, and productivity increases.
Employees who undergo a structured onboarding experience are 58 percent more likely to remain with a company for at least three years. Using gamification in your onboarding process can contribute to greater engagement and therefore greater retention.
Game-based learning initiatives are the in-thing. Harnessing the passion of your employees in gaming activities and linking it with your desired objective, can boost the productivity of your organization.
Gamification-based wellness initiatives
Employee wellbeing is an important part of engagement, and having wearables-based wellness initiatives based on a gamification model, are the next generation engagement tool. HR professionals can now turn fitness into a game by associating with intelligent fitness wearables, such as Fitbit.
ekincare Healthy Freedom Month
To keep employees fit and engaged during this extended lockdown, ekincare has begun with yet another fun-filled & exciting month - "The Healthy Freedom Month" which will focus on building healthy habits across three streams: Food, Body, and Mind.
Once the employees select a stream, they will be guided through a complete health program to make their weak point a super strong one. Every week employees will be given tasks & tips basis the stream they have selected and towards the end of the program, they can earn a minimum of 600 redeemable points in their ekincare wallet.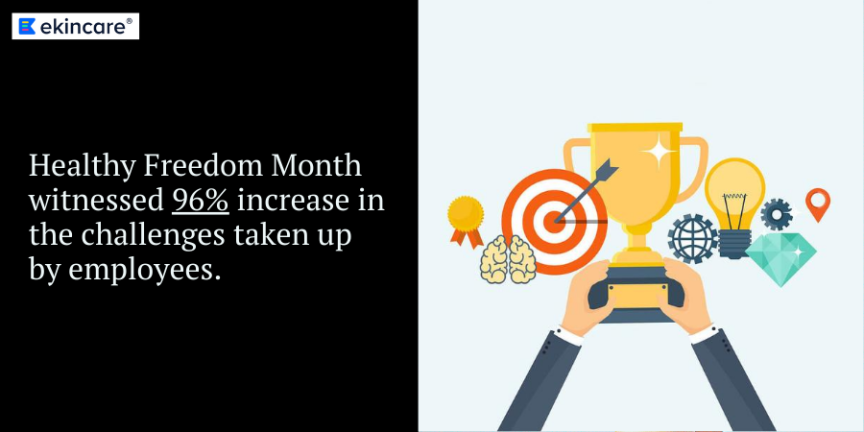 Organizations need to decide on how to adopt this emerging trend. When done correctly, gamification can enhance workplace culture and employee engagement to a large extent. The key is to just start with smaller goals and then scale up to a corporate wellness plan that incorporates gamification as well.