Over the last month or so we have seen how COVID-19 has changed the business and economic landscape beyond our wildest imagination. High streets and office blocks sit empty, schools, sports clubs, and other buildings are shut, and we are all being told to stay home indefinitely. While the lockdown announced in March 2020 forced everyone to work from home (WFH), some organizations were agile to introduce it in time and some who believed that WFH was not an option, had to rethink and reset their operations. 
Whilst most business owners realize that the current situation is unprecedented, it won't last forever. However, with many businesses forced to make a number of tough decisions about furloughing staff, salary reductions, and/or closing offices, it has given us all food for thought about what the working world will look like in the post-COVID-19 era. Though these stories are a reality and evoke painful conversations, employers can still stand out by rewarding the loyalty of employees, in whatever minuscule way possible.
Here are a few ways to win employees' hearts through care.
Prioritize employee well-being 
Employees are dealing with a lot of uncertainty, when it comes to their job status or when the offices will be re-starting and how returning to the physical workspace will be handled. It is indeed an uncertain and stressful time. Hence, employers should put their employees at ease and have company leaders communicate as much information as possible with them frequently. Take various initiatives like providing Employee Assistance Programs to take care of their employees' mental & emotional health concerns. The other possible solutions may include providing nutrition coaching, emotional counselling & fitness webinars.
ekincare stress evaluation questionnaire noted the 4 major factors impacting employee mental well-being during these times.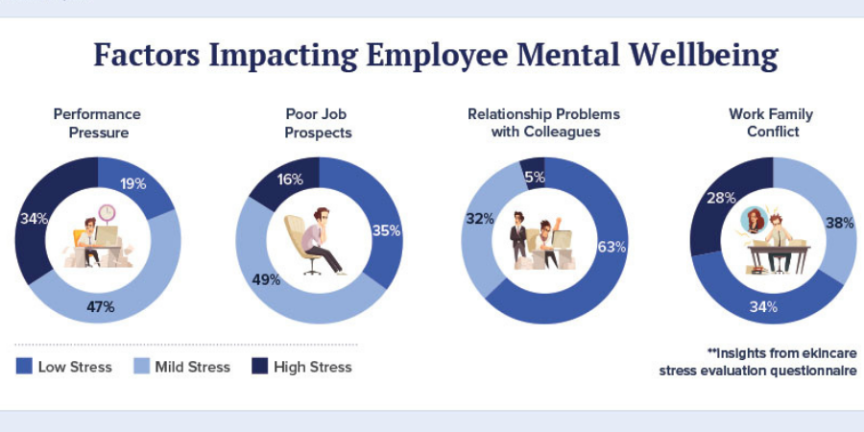 By checking in and setting up spaces for workers to collaborate and connect, leaders demonstrate that employee well-being is top of mind.
Post COVID-19
As offices resume work post-lockdown, it's vital to be conscious of the health risk an employee is subjected to. It is imperative to share operational readiness and the precautionary measures being implemented with employees for the sake of transparency and clarity.
Highlight how access to work, social distancing, and seating density in the workplace will not be compromised. 
Educate them on staggered work schedules, limited or zero travel, dedicated helplines, installation of air purification systems, level of sanitation, hands-free technology, and reconfigured workspaces to manage hygiene as well as risks due to suspect cases. 
Encourage employees to work from home, regularly, and leaders to have discussions via conference calls as much as possible. 
Communicate, responsibly the steps taken to mitigate further spreading of the virus.  
ekincare's Back to Office plan has indeed made a vital contribution to this process of preparing organizations for the new normal and helping India get back to work safely.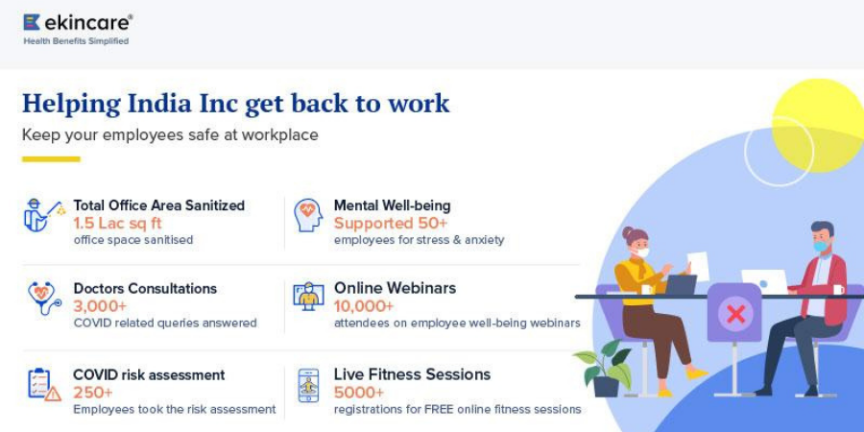 As one organizational head stated, "Treat them like you would your closest family member and watch their productivity rise higher."
Engaging your colleagues remotely
Employee engagement is a term that has become increasingly familiar with business leaders over the past decade. One of the most important aspects of engagement is the need to maintain regular and open channels of communication. Before COVID-19, people often worked at home in a bid to find some undisturbed and focused time. Now, however, everyone is working from home and the need for interaction is ever more important.
There are so many ways companies can encourage this, either via regular team video calls, the use of WhatsApp groups, desktop messenger, or the old-fashioned way of picking up a phone. It will be easy to hide behind faceless emails and so the onus is on the company to ensure that their employees are embracing alternatives and utilizing face-to-face forums.
Also, since today's employees are hooked on to technology—be it the latest application or an entertaining game, why not leverage this "fun element" and grab the attention of the employees? That's where Gamification of wellness comes into the picture and helps achieves both employee goals (fun, team interaction, and learning), and organizational goals (engagement, the focus of the employee, education, etc.).
Increase the quality of communication
Be it through townhall meetings or team catch-ups. Employees need to know how their efforts are contributing and are aligned to the larger vision of the organization. Leaders should make sure that every team member has an opportunity to be heard and acknowledged.
Keep motivating your employees
Working from home comes with distractions. Multi-tasking between household chores, catering to family, kids, and pets, and so on, is inevitable. Being solely focused on professional tasks becomes harder as days go by.  Also, the lack of face-to-face interactions with peers and managers makes it harder to receive outside motivation and can result in losing crucial momentum and focus on the job. So, motivating employees can help to boost their confidence, think positively, and set clear goals.
Close the day
Support self-care and boundaries by encouraging employees to unplug and spend time on personal interests and sometimes, just take time out to have a meal. And most importantly, resist the urge to do work tasks no matter how quick they might be. We don't know how long this will continue, so maintaining a healthy work-life balance is indeed important.
It's imperative to value those who are working the hardest. Studies reflect that more than 50% of consumers trust organizations that show concern towards their employees in times of crisis. Companies are most likely to be judged on how they treat their employees during tough times especially when it comes to attracting high-performing talent and the ability to drive revenues and greater engagement in the future.