2020 has been a hard year for everyone around the world, from front-line workers braving the pandemic risks to those laid off, and even those working from home. 
From commuting restrictions to staying isolated at home, the COVID-19 pandemic has left a profound impact on the way businesses work and it is set to stay here for long. Thus, the new employee well-being strategies will allow businesses to rebuild, reinvent, and be resilient at the workplace.
Broader focus on employee well-being
The COVID-19 pandemic required organizations to rethink and move from the traditional to a more focused holistic view of employee wellness. For some employers, this may include new programs and amplified employee benefits related to their mental and physical wellness, family well-being programs, or flexible work arrangements. The other possible solutions may include providing health coach programs, virtual fitness sessions, and emotional counseling. To prevent burnout, employers should also amplify their focus on times to unplug from work or go meeting-free. 
Subscription model to manage costs and ensure participation
Over the last few decades, a lot of industries have begun to adopt subscription business models. For employees, subscription business models address practical health needs and promise added simplicity. Since employees today have more demands on their budgets than ever, subscription models offer them a variety to choose their health benefits from. 
This provides employees with a personalized approach to take care of their health and manage the organizational healthcare cost too.
ekincare itself saw 80% higher engagement due to the personalization of health benefits. 
Focus on mental health and stress management
A recent survey by Monster revealed that 69% of employees working from home experienced severe burnout. It was not because working from home was particularly hard on everyone by itself, but the sudden rush to remote working without any underlying plan and infrastructure has caused this stress.
Another study discovered that workers believe this is "the most stressful year in history". While the COVID-19 pandemic worsened our employees' mental health and infected the workplace much like the virus, businesses need to be equipped with the right tools to support their employees.
ekincare stress evaluation questionnaire noted the 4 major factors impacting employee mental well-being during these times.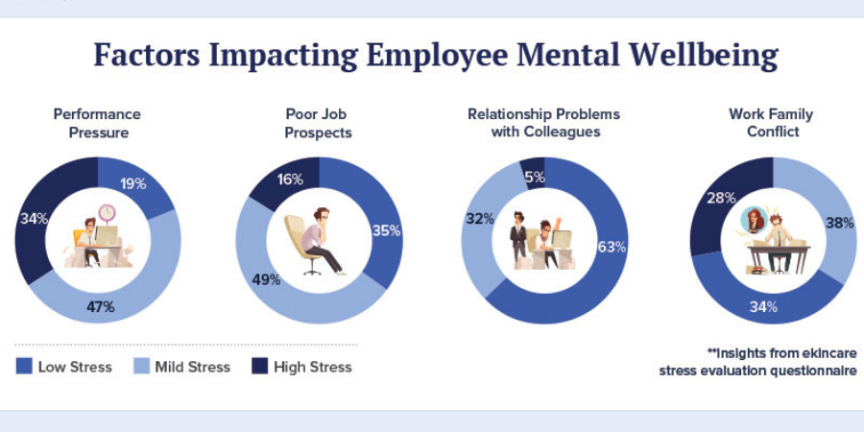 Employee engagement
It is very important for the success of any organization that its employees feel valued, heard and engaged. Employers should keep them connected, motivated and focused through consistent interactions and by providing various platforms for both personal as well as professional learning. As the COVID-19 pandemic has made employees feel stressed and isolated, Gamification, with its fun element, proved to be a great stress buster. Gamification is not only a fun way to drive engagement, but it also helps create a culture of openness and learning!
ekincare's Health Freedom Month witnessed a 96% increase in the challenges taken up by employees. 
Including family members in health benefits programs
Families are indeed an integral part of our lives. They shape who we are as an individual, what we do, how we feel, and even what we eat and drink. Family members are mostly in a better position to influence an employee's health than anyone else. 
According to one study, 67% of men are likely to become more active if their spouse also becomes active. While without their spouse's influence, only 26% of men agreed to make that positive change. 
Offering wellness benefits to employees' dependents too leads to overall healthier families, which can, in turn, result in lower health costs to the family and the company. Expanding the reach of your wellness program can also increase employee engagement, improve overall workforce happiness, and increase on-the-job satisfaction, making the workplace feel a little more like home.
ekincare witnessed a 20% increase in the number of family members availing the health benefits on the platform. 
New age benefits leveraging technology and analytics
Employee engagements saw a serious turn in these unprecedented times. From supporting employees by introducing flexibility, offering up-skilling courses, online fitness sessions and utilizing technology in order to provide a better work-life balance, everything will have a major impact on the workplace and employee satisfaction in the upcoming times. 
It's time now for organizations to create a rich, diverse, and dynamic workplace and change their traditional way of working and embrace digitization. Employers must also ensure that their employees are very well trained with the new technology tools and skills needed to support the organizations' plan for digital transformation and growth. Digitization not only provides useful data-driven insights but also helps businesses to analyze, plan and be future prepared to thrive in such adversities. 
Conclusion 
As much as everybody wishes to return to the way things were, nobody will unless we all work for it. So let's use this upcoming year as an opportunity to create healthy workplace cultures that should have existed all along. Having access to a corporate wellness program that accounts for changing needs can also help skyrocket your organization's health and productivity.
In 2021 and beyond, let us take better care of our people, and each other.
Read this article on ETHRWorld.com as well.