Traditionally, strategy/planning, marketing/sales, finance and engineering are considered pillars of any industry. However, there is an invisible pillar: The employees behind the operation of any industry. Whether they create needles or rockets, any organisation always has a human mind behind its success. So, the happier and healthier this human mind stays, the more innovations and progress in the industry.
History has many examples of organizations facing heavy losses or penalties because of human errors. If we dive deep into the reasons for the same, many will boil down to a lack of significance to employees' health or well-being in totality, leading to human errors. Organizations invest in upgrading machinery or other infrastructures to sustain the market competition, but studies show that organizations should prioritize investing in employee well-being, which is equally important.
Rising awareness about the importance of employee well-being
The COVID-19 pandemic has brought awareness about one's well-being in a brighter sense. Whether physically or mentally, the sensitivity to take care of ourselves is higher than ever before. Wellness as an industry is evolving.
William H. Lever said, "If we leave the human factor out of our business calculations, we shall be wrong every time."
The above statement clearly states how significant human capital in an organization is. A working professional spends more than half of their waking life working or engaging in work-related activities. The quality of time spent here becomes a major deciding factor for overall health. It is a fact recognised by both the employees and the employers. This has led to a consistent uptick in the number of initiatives taken by organizations for employee well-being. It has been a catchy trend for organizations in recent times.
Why is employee well-being important for organisations?
The perception and the image of the firm that actively collaborates for employee well-being are higher in one's mind. Employee wellness is a continuous process that needs attention. In the present scenario, innovative and active steps are implemented for employee well-being. Changing behaviour is eventually up to an individual. However, employers have an opportunity to help their employees see the value of adopting healthier habits so that they can live healthier lives.
According to Mercer, in the National Survey of Employer-Sponsored Health Plan, there is about 11% lower turnover in organizations where employers prioritize well-being than employers who did little to prioritize employee health. Research also shows that when employees' physical, mental, and emotional health is maintained, they are more likely to deliver optimal performance in the workplace. As employees' wellness improves, fewer employees take days off for illness. Their engagement with business is higher, there is a considerable reduction in healthcare costs for employers, and also better customer service! Healthy employees are considered important pillars of organisational success.
Despite many initiatives, there remain some loose ends in wellness initiatives. Research states the below statistics:
1) As per The Psychometric World 2021, the global cost of the workplace wellness market is worth $40.7 billion globally, yet the current workplace wellness programs cover less than 9% of the Global Workforce.
2) A survey by Northwestern National Life revealed that about 40% of workers reported that their jobs were stressful.
3) In a survey by Yale University, 29% of workers reported feeling extreme stress because of their job roles.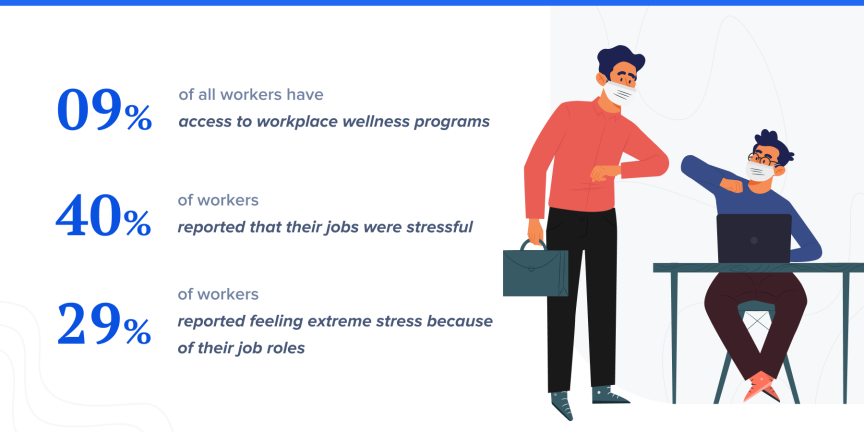 Employee wellbeing stats at a glance
Even after many innovative steps toward well-being, there is more to do to ensure the benefits reach all the employees across organizations in both organized and unorganized sectors.
Steps to ensure that employee health benefits are effective
To ensure that the benefits reach every employee in all sectors, the following steps can help. 
1) Creating awareness among employees to ensure that the maximum number of employees actively participate in wellness initiatives.
2) Ensuring the organisation is adequately staffed so that there is a plausible workload.
3) Giving employees a certain amount of freedom on how they perform their responsibilities 
4) Creating a platform for every employee's voice to be heard.
5) A fair analysis and necessary actions to identify the areas that need attention by evaluating the feedback received from employees.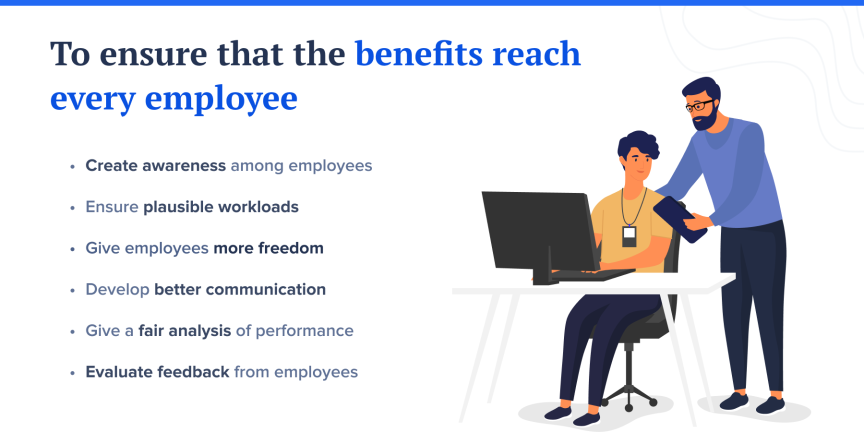 Steps to ensure health benefits reach every employee
The most effective wellness programs are successful because they don't take a one-size-fits-all approach. A few unique initiatives taken by organizations are stated below:
1) In India, Chegg provides its employees with a one-week Diwali off. They have even personalized the holiday list as per their employees' needs!
2) Wakefit introduced the right to nap initiative to promote and normalize afternoon naps at work.
3) Zerodha announced that anyone with a BMI of less than 25 gets half a month's salary as a bonus. They also announced benefits for staff members who will lose weight.
4) Google's campus offers a wellness program featuring onsite healthcare services, including trained physicians, physical therapy, and massage services. They also provide access to fitness centres and community bikes. As per the employees' interests, personal and professional skills can be developed by taking cooking classes, coding degree programs, guitar lessons, and many more alternatives.
5) There is a tendency for employees to not avail their leaves because of their work schedules. This prompted Leap scholar to give vouchers at Taj with access to all the amenities which enable and encourage the employees to enjoy the holidays.
Many initiatives like calorie-based food provision in employee cafeterias, increased amenities for gymnasium and sports, yoga and meditation sessions, stress-free workshops, and creating wellness goals beneficial to the organization and the employees, are commonly practised in organizations. These are a few of the many initiatives to ensure the well-being and engagement of employees. These have resulted in increased retention and better performance from the employees.
In closing
With the changing dynamics, job seekers search for jobs that cater to their personal needs and care about their health and security apart from the compensation. If the organization is still not taking steps toward employee well-being, it will hamper its growth.
It is a simple demand-supply equation. Employees now expect their employers to provide benefits that support their well-being. Culturally, it has been a norm where there is a demand from the majority of the employee sector to be taken care of, have a work-life balance, and a healthy lifestyle. The organizations which incorporate this are the ones that become an aspiration for the employees to be part of. While automation brought so much simplicity to the employee lifecycle, personalization and employee well-being are how an organization will differentiate.
Schedule a demo to learn how your organisation can get the best employee health and well-being experience with ekincare's commitment to quality.