As we grow stronger & faster, here's yet another milestone to celebrate!
We at ekincare are happy to announce that we have successfully raised $15 million in a Series B funding round led by HealthQuad and Sabre Partners, along with participation from existing investors Ventureast, Eight Roads Ventures, Siana Capital, and Endiya Partners.
We're just getting started! Watch the video.
ekincare began with the intent to make a positive impact on the fragmented and difficult to navigate healthcare system in India. We have come a long way from that initial goal, with many more miles to go!
Now, our goal is to ramp up growth and deliver simplified health benefits & insurance experiences to employers and employees.
As a personalized, full-stack & highly customizable health benefits platform, our services are built to help employers design a health benefits package that best suits the needs of their employees and their families.
3X Growth with cutting-edge technology
We expect to grow by another 3X post this round. In a post-pandemic world, employee well-being has increasingly become the focal point of every employer's strategy.
Our patented platform considers behavioral data and uses it to personalize an employee's health benefits journey, resulting in higher benefits adoption, employee engagement, and better health outcomes. The longitudinal depth of this information is helping payers underwrite health risks better, in turn making healthcare affordable for employers.
Driving better corporate health
ekincare helps with real-time insights & comprehensive insurance plans
As per the Corporate Health and Wellness Market study by Redseer, the corporate health and wellness market in India is worth $7 billion and is expected to grow at 20% CAGR.
However, even today, the market remains highly fragmented in India, and ekincare's one-stop employee health benefits platform aims to resolve the difficulties faced by corporations in accessing better employee healthcare. This is achieved through integration with thousands of healthcare service providers across insurance, hospitals, diagnostics, teleconsultation providers, e-pharmacy, and mental wellness.
ekincare's mission
ekincare is on a mission to make quality healthcare affordable and accessible to corporations, employees and their loved ones, with:
Smarter communication channels between users and service partners
Intuitive & customizable health plans, and
A forward-thinking approach to employee health & well-being in the "Workplace of Tomorrow".
ekincare also strives to be as user-friendly as possible, by helping employers provide all the relevant health benefits under one roof through a completely digital platform. This also gives employees the flexibility to choose benefits based on their diverse and specific needs.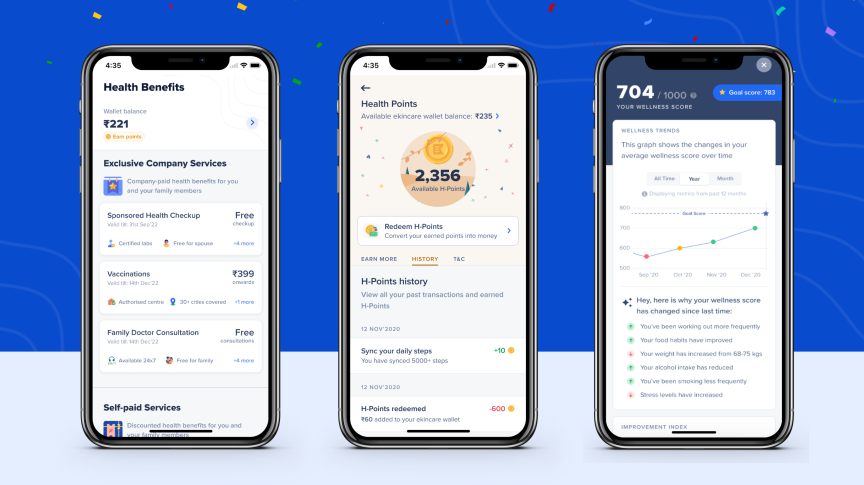 ekincare's all-in-one & user friendly health benefits platform
Adding to this sentiment of providing a growing range of employee health benefits, Srikanth Samudrala, CTO & Co-Founder, ekincare, says, "When it comes to health, everyone's needs are different. Our vision is to build a comprehensive health benefits platform that caters to every healthcare need. We intend to add around 25 new benefits in the next year that employers can offer to employees and their families."
Investor's speak
Ajay Mahipal, Director, HealthQuad: "With an industry-leading NPS of 80%, ekincare is growing at a CAGR of 150%. ekincare's health benefits platform is trusted by 400+ corporates and more than a million of their employees. The startup's customer base includes Fortune 500 companies like S&P Global, Target, ThyssenKrupp, Allstate, as well as fast-growing startups like Airbnb, Xpress Bees, Nykaa, Flipkart and SMEs, all of whom count on the platform for organizing their health benefits plan."
Jagannath Samavedam, Partner, Sabre Partners: "ekincare is looking to add 10,000 companies to its customer base by FY'25. The company has a strong management team and its comprehensive health benefits solution for SMEs, built on a strong foundation of integrated, cashless IPD & OPD network across 150+ cities is gaining phenomenal traction and will further push their growth trajectory."
To a healthier future
The ekincare squad is excited to continue growing and scaling our all-in-one, AI-enabled employee well-being platform. As the focus on employee well-being grows, so will the scope of the services and benefits we offer.
The "Future of Health" is now, and ekincare aims to provide the best possible experience to all users across industries in the present and future!
Request a demo to learn how your organization can get the best employee health and well-being experience with ekincare's commitment to quality.
Are you a passionate professional interested in making a real difference? Join the ekincare family!